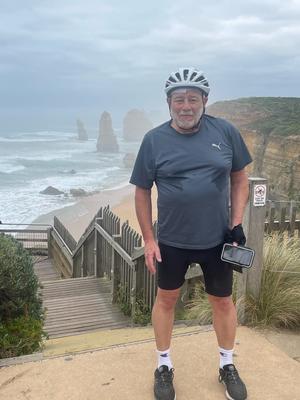 Life before Vision. My life before I joined the studio was unhealthy in the extreme. Grossly overweight, working long hours in a very stressful job, continually drowsy and exhausted, engaged in comfort eating and unable to consistently exercise. I was a veritable ticking time bomb. The time bomb detonated nearly 4 years ago when I fell asleep at the wheel of my car one morning and ploughed into the back of a stationary vehicle stopped at the traffic lights. Luckily this happened during morning peak hour when I was travelling at a leisurely speed so no damage was inflicted on either vehicle nor person. But it was the moment when finally the penny dropped, and a massive, permanent lifestyle overhaul was required. My children, concerned about my declining health and overall well-being, researched gym and training studio options and thankfully decided upon Vision PT Prahran. My son joined for a short time prior to overseas travel and I finally "bit the bullet" and took his place when he left for his holidays. It was the best move I've ever made, and has been singularly responsible for my life turnaround.

Results. Not only have I dropped 25kg in weight but I've become far healthier and fitter as well. I'm far stronger, my cardio has improved immeasurably and I'm achieving outcomes that I never dreamt were possible in my 50s. And at my age, I take pride in the fact that recent blood tests reveal impressive results and I'm not required to take any tablets to maintain my physical health. With a group of guys, I recently cycled 150km over 4 days in the Western District of Victoria. A few weeks later, I completed the 14.5km long course for Run 4 the Kids and actually managed to throw in 4km of slow jogging along the way albeit at "When are they unveiling the statue?" pace.

Life changes. I'm far happier, more energetic, better rounded being far less rounded, endorphin charged! I eat far more sensibly these days; more healthily too. And it's wonderful to associate XXXX as a beer rather than a number and letter immediately preceding the L on the size of my clothes which was the case pre-Vision!

Favourite thing about training at Vision. I just love the supportive, embracing and warm community that training at Vision Prahran engenders. Everybody is willing you to succeed and thrive and the place is jumping with positivity and encouragement. How can you fail to prosper in that environment? And I thoroughly enjoy training with Drew Robinson. Just a first-class human being who educates, inspires, encourages and guides me every session. We laugh a lot and compete to see who can crack the other up with the lamest of gags. He coaxes and cajoles if he sees me creeping back into bad habits, and celebrates and applauds my successes.

Defining moments. There have been a number of those, none more so than when I chalked up my first 10kg loss. At that point, I think my eating habits and exercise regime had become entrenched and I knew that Vision PT Prahran was going to be part of my life for the long term. Other milestones over the journey include engaging in my first fun walk as part of the studio (Melbourne Marathon festival 10km), doing my first 4 day cycle ride in 2022, and nervously partaking in my first group boxing and X-Train group training session at the studio and finding that I was able to cope with the physical demands imposed on me.

Advice to others. Life is too short. As the slogan say, just do it! Vision PT Prahran will be a "game changer" for you. It's not just a place where you do weights and a class or two. It's a place where you'll be supported, educated, informed and armed with the necessary tools in order to succeed. From shopping tours, health and well-being seminars, attentive and committed personal trainers, group classes with like-minded individuals, everything is geared towards guaranteeing success in a supportive environment.
What's not to love?
Prahran Success Stories
Our holistic approach to emotions, education, eating and exercise has transformed thousands of people across Australia & New Zealand. Get inspired by the journeys of your latest clients.
Are you our next success story?
Give your goals the greenlight and join us. Book your free consult now.