Before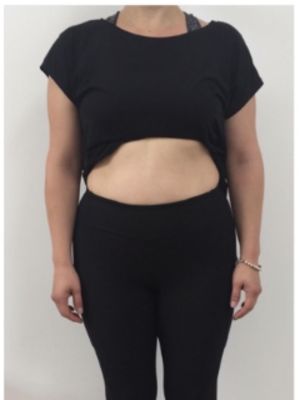 After
Tell me about your life before Vision?
I was struggling with my physical and mental health before vision. After having a couple of children in close succession and suffering extreme sleep deprivation for several years, I was feeling exhausted, unmotivated, eating without intention and feeling very uncomfortable in my own body.
What results have you achieved?
I had lost a bit of weight before starting with vision but seemed to have plateaued and couldn't budge any extra kgs despite my efforts. My body has changed a lot since training in the vision studio. I have strength and tone where it hadn't existed for many years and have dropped 2-3 clothing sizes. Aside from that, my mental health and general clarity and motivation has improved incredibly!
How has life changed for you?
I feel fit and strong and enjoy exercising more than anything! I can tackle most tasks in a busy day without hesitation and am really a much healthier, happier person. I feel proud of my body, both before for carrying my beautiful children and now after it has healed and is strong again
What is your favourite thing about training at Vision?
The general fun and relaxed vibe in the studio. You are always greeted with a smile and lots of hello's! It always feels like walking into a room with a group of friends and supporters of your goals.
What are some defining moments during your journey?
Definitely feeling my issues post children in my neck and back improve. This was crippling discomfort daily for me and having improved my physical strength has meant I can sleep comfortably again and move my body much more freely!
What advice would you give someone in a similar situation to where you were, and thinking about making a change?
Just do it! No matter how tired and overwhelmed you might feel, trust that you can do it and will get so much out of it. Your body can change so much after having children and lack of sleep and hormones etc can make you feel incredible flat and like the goal is unachievable. It's not and the time you get alone and prioritising yourself a few times a week is worth every effort
Prahran Success Stories
Our holistic approach to emotions, education, eating and exercise has transformed thousands of people across Australia & New Zealand. Get inspired by the journeys of your latest clients.
Are you our next success story?
Give your goals the greenlight and join us. Book your free consult now.