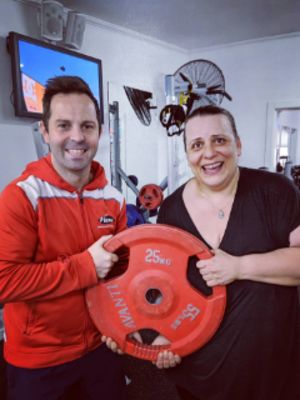 Tell me about your life before Vision?
Life before Vision was different. I was active and healthy and had loads of confidence. Exercising wasn't a problem and I was always motivated to do things and to be somewhat healthy. I always looked after myself. Then my whole life changed, I was diagnosed with stage 1 cancer of the uterus and had to have a full hysterectomy including removal of the ovaries. Then menopausal kicked in and it kicked in hard. I stopped being active. I was anxious and depressed all the time. I stopped socialising and looking after myself. Eating and drinking anything was my life and I didn't care. It was horrible and I truly felt lost. Weight started piling on and my feet were hurting. I gained almost thirty kilos in the next 4 years.


What results have you achieved?
Right now today, I am 25 kilos lighter and at the same weight I got cancer. I feel that I have beaten those menopause demons and the thoughts that came with them. My diet is a million times better and my feet don't hurt as much. I have more energy and enjoying life. The kilos that I need to lose don't scare me.


How has life changed for you?
I look better and feel great. I'm not in a downward spiral anymore and that's the best battle I have won!


What is your favourite thing about training at Vision?
My favourite thing about Vision is that all the trainers know your name and welcome you every time you go. You are helpful and you listen to what we have to say. You are there for us and guide us to our needs at the gym and as a personal trainer you are there every step of the way with our training.


What are some defining moments during your journey?
My advice would be to just give it go. Listen to your body and respond to it. All the trainers are there to help you and to guide you in your fitness. They are there to answer questions and to listen to what you have to say. It can be overwhelming at the start but once you get used to eating well and understanding how great this is for you in the long term and exercising regularly then you will get it.


What advice would you give someone in a similar situation to where you were, and thinking about making a change?
Trust me I get it!! Making a change is not that hard and I've learnt this. Going through hell has helped me appreciate where I am now. Thank you everyone at Vision for helping me achieve this. To many more sessions to come.
Prahran Success Stories
Our holistic approach to emotions, education, eating and exercise has transformed thousands of people across Australia & New Zealand. Get inspired by the journeys of your latest clients.
Are you our next success story?
Give your goals the greenlight and join us. Book your free consult now.