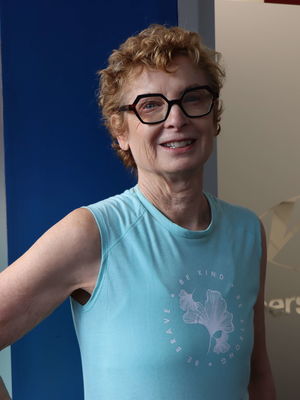 Tell us about your life before joining Vision Personal Training Lindfield?

I joined Vision in May 2008 just after Vision Lindfield opened. I was looking for a new gym as I was going to Active Fitness in North Ryde and they had closed down, so I didn't have a gym. I was very happy too have a small gym opening so close to home and a very friendly environment.

What was the state of your health and fitness when you started and what affect was this having on your life?

I was doing a small amount of exercise before I joined Vision, but was not very consistent and only doing perhaps one session per week, which was not sufficient.

What results have you achieved at Vision Personal Training Lindfield?

In the time I have been at Vision, I have slowly improved my overall fitness and strength. I have also lost body fat and gained muscle during that time. I come to the gym at least three times a week, sometimes more.

What did you find was the most useful tool at Vision?

The most useful tool at Vision, was actually my trainers. I have been fortunate to have some fantastic trainers over the last 14 years. They have been very motivating and my current trainer has taken my fitness to the next level, where I have been able to complete some great bush walks, like the Overland Track and more recently, the Twelve Apostles and The Coast Track in Wales in the UK.

What impact has your new health and fitness had on your new life?

I have been able to maintain a healthy weight, over the last few years and also maintain strength and muscle mass. It is reassuring to have a bio-age 7 years younger than my biological years. Maintaining fitness is more important as we age, and has allowed us to travel and keep active.

What keeps you motivated?

The greatest motivation comes from my trainer, and also the Vision Lindfield gym community who keep me motivated to show up every Saturday morning at 6.30am for the walk club. Everyone at the gym is very friendly and welcoming. The gym feels like a second home.

What advice would you give to someone that is currently thinking about taking a positive step towards changing their health and fitness?

The hardest thing is getting started and then taking small steps towards improving your fitness.

If you were to recommend Vision Personal Training Lindfield to your friends, what would you say?

It is a journey, and don't expect results in one or two weeks. You have to show up consistently before you get results.
Lindfield Success Stories
Our holistic approach to emotions, education, eating and exercise has transformed thousands of people across Australia & New Zealand. Get inspired by the journeys of your latest clients.
Are you our next success story?
Give your goals the greenlight and join us. Book your free consult now.