Before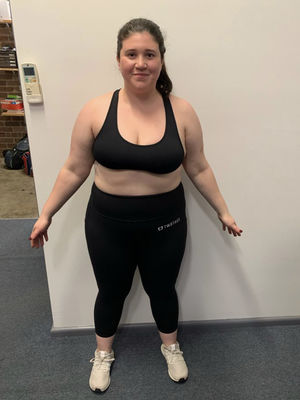 After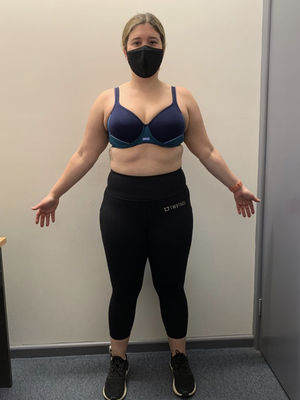 I have always done things in extremes. I'm either all in or all out with not a lot of practice at balance. My health, fitness and wellness were of no exception. I have always fluctuated in weight, putting myself on extreme programs, fad diets and even began to look into surgeries to help me reach what I thought was the ideal body. Body image has always been an incredibly personal topic for me and something that was not a positive one.
Fast-forward to 2020 and what felt like all of a sudden I'm the biggest I've ever been. My clothing size went up and I found it hard to find clothing in everyday stores. I would go into a change room and try something on and nothing would fit. This would then lead to me being so hard on myself and putting myself down. What was the best way I knew how to cope with these feelings of inadequacy and feeling helpless? Binge eating my feelings. I was on a rapid downward spiral of emotions, self-loathing and I was afraid. I come from a very fit family and being the odd one out was difficult. I finally decided to confide in my brother's girlfriend, Chantal and explained to her how I wanted to lose weight and regain my life back. Coincidently her mother, Sarah, owns Vision Wahroonga. Chantal shared this information with her mother and Sarah, being a Vision success story herself, called Max at Vision Bondi Junction.
I heard from Max that same afternoon and so my new health journey began. I had been a member at Vision Bondi Junction 10 years earlier and it was nice to be back. After my consultation with Max, he listened to what I thought I needed and paired me with my amazing trainer Sonia. Sonia and I set realistic goals and got straight into it. Accountability was my biggest issue and Sonia kept me accountable the whole way. In my first 8 weeks I lost 8 kilos. Then the 9 Week Challenge started and I made some big promises to myself and started to become part of the community by going to group classes. The support of the whole Vision community is what has helped me get my 17kg weight loss so far. I not only look after my physical health better, but I have learned about how to keep myself in a positive mind, setting me up for kicking my future goals. I have had some hurdles along the way, but as I just learned in one of the Vision seminars, it's those hurdles, which really thrust you towards success.
Bondi Junction Success Stories
Our holistic approach to emotions, education, eating and exercise has transformed thousands of people across Australia & New Zealand. Get inspired by the journeys of your latest clients.
Are you our next success story?
Give your goals the greenlight and join us. Book your free consult now.