Before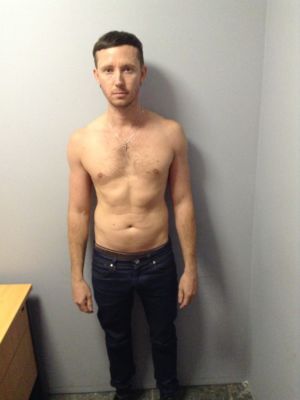 After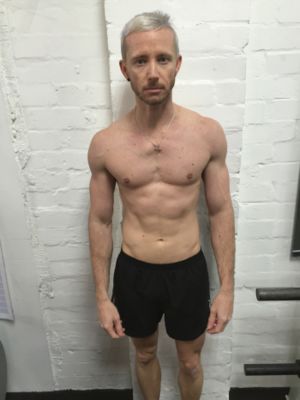 Before joining Vision Surry Hills my fitness and body was on a downhill slide. My membership at a large chain of gyms had become little more than a direct donation from me to them. I had a raft of excuses for not making it to the gym, and I wasn't doing anything to address them. My biggest and most authentic excuse was proximity, or lack there of, after a workplace relocation meant the gym was no longer on the way home. Add to this a love of eating out and guzzling Tonic water (with my favourite mixer, Gin) and sitting at my desk for far too long everyday, and thus my lifelong skinny-boy figure had transitioned to a skinny-fat one.

Fortunately there was a Vision studio right around the corner from my new office, and with it's red framed posters catching my eye as I walked past everyday, it soon became clear proximity was no longer an excuse. Adding fuel to the fire, now time was running out. I was just 10 weeks out from a European Summer holiday with friends, all my promises to myself to get into better shape had made no dent in my waistline. As I walked past the Surry Hills studio on route to gorge myself on a pad thai lunch special, all of a sudden that '9 week challenge' poster beside the entrance beckoned. If I was to have any sort of body confidence on this trip, it was now or never.

Inside the studio I met the team, felt instantly comfortable, and got started on my goals to lose some weight and tone things up. I wasn't sure what could really be achieved in 9-weeks but i was hoping for the best and finally willing to give it my all. There were challenges along the way, eating 4-6 times a day was not natural for someone who had always skipped breakfast and survived on two massive meals a day for most of his life, but the nutritional seminars and VVT food tracker meant that overtime I got better and better at balancing my food intake, and soon learnt how to identify where I was going wrong, and how to correct any one off blow outs that naturally occurred from time to time. With the support of my trainer Kyle, I was lifting weights I could never have lifted on my own, pushing further then I thought myself capable, and pretty soon I found I wasn't just achieving my vain goal of a 'better body' but I was also feeling stronger, feeling as sense of achievement, and generally loving life! Nice side effects indeed! I quickly found I no longer needed to prioritise the gym any more because I actually loved going there. The small studio environment meant we were often working out on our own, with none of the usual meat-head culture that put me off at bigger gyms, and those people I did occasionally share the gym with actually smiled, said hello, and encouraged me to do better.

Encouragement comes in many forms at Vision, not only with your trainer one on one, but from all the trainers, whether it be a pat on the back, or a tip for nutrition or technique. More so, it comes when you realise you share a common goal with everyone in the room, a goal to be a better version of yourself. It comes when you see the determination of other members to achieve their own goals, to smash their goals, and over come their unique struggles. Inspiring people are all around, and their spirit rubs off. It becomes addictive. Much like the cross-training classes, despite the fact that they have never gotten any easier, consistently challenge, and feel so brilliant to finish, doing so is an achievement I won't rob myself of anymore, and one I can give myself every week, twice!

Those first 9-weeks were all I had planned to stay for when I joined Vision, thinking of it it almost like a diet that would be a temporary fix, but when they came to an end and the speedo body made an appearance on that holiday, I knew that I wanted to keep up the good work and see what else could be achieved. Its been 12 months since I joined, and results have continued to come. Whilst my overall weight has stayed pretty much the same since the end of the fat loss of the first 9 weeks, my body composition and proportion continues to improve. I've happily said goodbye to those skinny-fat days, and happily welcome the days of being something other than just skinny. I feel strong, stand straighter, have more energy, get hungry, eat well, have more confidence, and have a whole bunch of new friends that effect positive influence on my life. If you are thinking about giving Vision a go, I would say do it now, waiting any longer will be your only regret.
Surry Hills Success Stories
Our holistic approach to emotions, education, eating and exercise has transformed thousands of people across Australia & New Zealand. Get inspired by the journeys of your latest clients.
Are you our next success story?
Give your goals the greenlight and join us. Book your free consult now.