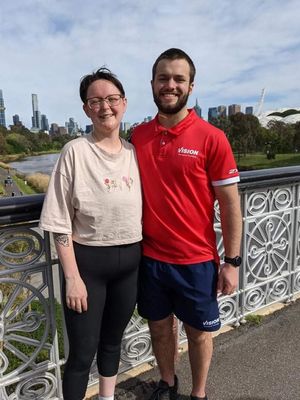 Tell me about your life before Vision. Before joining Vision, I didn't really like to think about my body at all. I used to joke that I'd be happy not to even have a body, and instead exist as a hologram or a cool website. I was overweight, yes, but I was also incredibly unfit, and in near constant joint pain. I was sad and anxious almost all the time, and had resigned myself to the fact that I probably always would be. "I can deal with that," I thought. "I can deal with pretending my body doesn't exist, not looking at my reflection, not wearing the clothes I want to wear, struggling to walk up the hill to get home, drinking every night, folding in on myself. I can live around it."
Over the 2020 lockdowns all those issues became more and more pronounced, and coming into 2021 I was incredibly unhappy with my body, my life, and the direction I was going in the world. My family have been members of Vision Kogarah in NSW for the past three years, and I watched from Melbourne as each of them changed and developed, growing fitter, stronger, and happier. My younger brother Kieran is now a trainer at Kogarah as well. For a long time I insisted I wouldn't enjoy the gym, couldn't get into the personal trainer dynamic - I wasn't ready take on the challenge of changing, and I couldn't see a version of events where it stuck, because I didn't believe in myself to have the perseverance I saw in my parents and brother.
Change is hard, and often painful, and it felt like the path of least resistance to simply live with the pain I already had than take on the seemingly insurmountable task of committing to losing weight, eating better, getting fit, and properly taking care of myself. But coming out of lockdown and up to Sydney for Christmas last year something shifted. My brother offered to start training with me in the garage, and gradually my family coaxed me into the Studio to check it out. I realised I was in the perfect position to start trying to change, with my whole family around me cheering me on, having been where I was themselves. Within about a week I was hooked, and my life has only gotten better since then.
What results have you achieved? Since I signed up with Vision in January of 2021, I have lost 37kg, going from 105kg to 68kg in ten months. I've lost 25kg of those 37kg since I've been at Vision Prahran, having started at Vision Kogarah in Sydney where the rest of my family train. While that weight loss has been the most visible result for me, it's certainly not the only one, and in many ways not the most important. In April I started going to Prahran's weekly Run Club- having previously never run for more than a few minutes at a time. Since then I've completed a 7km Sri Chinmoy run, a 10km run for Run Melbourne, and now a virtual half marathon for Melbourne Marathon Festival.
How has life changed for you? Since joining Vision, my life has changed immeasurably, in ways I'm still realising. I no longer experience the chronic joint pain I had become resigned to as a constant in my life - where pain was once my default, I am now pain-free most of the time (unless I've just trained with Austin, in which case, everything hurts). Discovering running has been the biggest surprise for me. Three months ago I hadn't run more than 8km. Six months ago I could run maybe 1km. Ten months ago I couldn't run for the bus, and now I've completed my first half marathon (21km), and intend to complete another in December, with the goal of a full marathon at the end of 2022. Just writing that out feels insane, that I could go from total inactivity to long distance running in such a short period of time, and have had actual fun doing it. I feel comfortable for others to see me, now. I wear clothes that fit, wear shorts, go to the beach when it's sunny, allow people to take photos of me. I have an outlet for my anxiety now, and I've been able to cope with the ups and downs of this year much better than in previous years. I've learned to properly cook, to enjoy food and eating. I'm more adventurous, more social, more adaptable and more able to enjoy my life. Also I can do a burpee now, but I don't know if that's necessarily a positive change...
What is your favourite thing about training at Vision? One of the best things about Vision is the tight knit community. Having started at a gym where my brother was a trainer and my parents both clients, I was quickly adopted into the Kogarah Vision family and made to feel welcome, respected, and encouraged by trainers and clients alike. Moving back to Melbourne I was nervous about starting over with complete strangers, but it turned out I was worried for nothing. The trainers and clients at Prahran are so welcoming, kind, enthusiastic, and committed to the Vision process, and they brought me into their little gym family with open arms and made me feel like I'd always been there.
What are some defining moments during your journey? Obviously my proudest moment thus far has been running 21km, but what defines that moment for me is that I did it alongside one of my dearest friends, Melanie, also a Vision client and all round superstar. We started running together during lockdown 5 and went through the whole 10 week training program together (referring to it as Run Your Mouth Club because neither of us is capable of shutting up!), constantly encouraging and pushing each other to keep going, get through one more kilometre, run up that hill one more time, to get up at 6am again for a run and a coffee and a hearty gossip. Another huge moment that sticks in my mind is crossing the threshold of losing 30kg. I realised that not only had I lost the equivalent of a small human, I was probably the lightest I'd been in about 6 years.
What advice would you give to someone in a similar situation to where you were who is thinking about making a change?
Trust the process, trust yourself. There are elements of the Vision process that I initially blanched at. For instance, the idea of tracking my eating and sharing that with a trainer made me uncomfortable at first. Once I talked it through and gave it a go, however, I found it super helpful. It's important to keep an open mind and be willing to try things even when you're not sure about them - but it's also vital that you listen to your body and your brain and you don't force yourself to keep doing things that don't work for you, or are actively harmful. Not all forms of exercise or weight loss techniques work for all people, and finding what's sustainable and even enjoyable is half the battle.
Find the fun. The best form of exercise for you is the kind you enjoy the most. Find the form of cardio you don't have to force yourself to do - whether it's running, cycling, group classes, boxing, dancing, or even the SkiErg if you're truly insane - and you'll see results far quicker as well as making yourself happier while you do it!
Communicate. Spend time thinking about what you want to achieve and how you want to achieve that, and communicate with your trainer about it. The Vision trainers are total fitness whiz kids with seemingly endless knowledge about nutrition, exercise, and overall wellness, but they can't read your mind. The more honest you are with them, the more you get out of their wealth of knowledge.
Don't underestimate yourself. When Austin first asked if I wanted to do the half marathon in October, I was adamant I wouldn't be able to run that far. For the longest time I didn't see myself as someone with stamina who could do things that required endurance. After he convinced me to challenge myself to do it, I quickly discovered that the more I ran and the further I ran, the more confident I became that I could do it. At the end of the half marathon training program I told Austin I wanted to try for a full marathon in a year, and he had the good grace not to tell me "I told you so".
No one is staring at you! When I first ventured into the gym, I was super self-conscious and paranoid that people would look at me, or stare at me, or judge me, decide I didn't belong. Now I understand that when you're in the gym, you're mostly only thinking about yourself and your own progress, and if you're staring at anything it's the clock, wondering why it doesn't tick faster when you've still got five minutes left on the treadmill.
What's more, the clients at Prahran are all beautiful, kind, open people who will only ever give you positive reinforcement, encouragement, and the occasional helpful tip about where's good for coffee nearby. No one is at the gym to judge others, we're all there because we want to work on ourselves and be amongst like-minded people (and dogs).
Prahran Success Stories
Our holistic approach to emotions, education, eating and exercise has transformed thousands of people across Australia & New Zealand. Get inspired by the journeys of your latest clients.
Are you our next success story?
Give your goals the greenlight and join us. Book your free consult now.