Before
After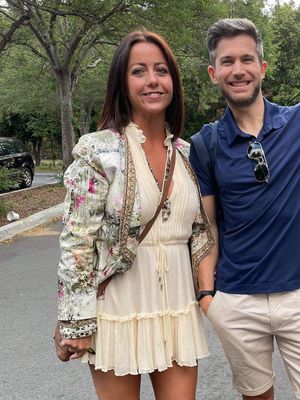 I had reached a point where I no longer felt like myself, didn't recognise the person in the mirror, sometimes missed social events because I didn't feel attractive and my clothes no longer fit me. I was becoming depressed which didn't help with my comfort eating and sometimes comfort drinking. I'd really had enough. I spoke to my best friend (fitness junkie and my mentor) who had never been judgemental or advised me on how to change but was ecstatic for me when I said I would TRULY make the change. No more fad diets or starving myself here and there but professional help. She had been affiliated with Vision as a trainer (she visits there herself) for extra training. She marched me down and paid for my first week. She said this will hold you accountable. I was so nervous, never had a personal trainer.
Then I met Martin! I immediately felt so comfortable, no stress and we were able to set goals and do the initial weigh in. There was no judgment and he made me confident in myself from day one. From there on, we focused on our work outs and my goals which he initially thought might be a bit ambitious but I really, REALLY wanted to challenge myself and see if I could do it. I cut out the booze/junk and ate really clean and the weight literally fell off. Diet, weights and cardio. If I can do it, I truly believe anyone can. I won the 9 week challenge for Bondi Junction and I could not have done it without the constant support of Vision, my trainer Martin, the owner Max and everyone else (you know who you are) that cheers your name when you walk into the gym. Vision has helped me change my life, feel better about myself, realise how strong I am both mentally and physically. And that I can do ANYTHING I put my mind to. If I can do it, anyone determined can, just try!
Bondi Junction Success Stories
Our holistic approach to emotions, education, eating and exercise has transformed thousands of people across Australia & New Zealand. Get inspired by the journeys of your latest clients.
Are you our next success story?
Give your goals the greenlight and join us. Book your free consult now.