Before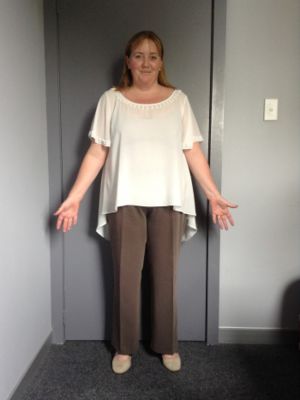 After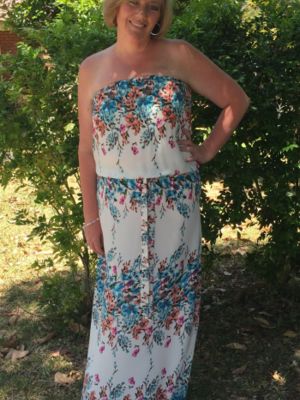 I recently came across a quote which read "I love the person I have become because I fought to become her". It is only on reflection that I can truly appreciate the meaning of this journey, one which I am still travelling today.
I started with Vision Personal Training Frenchs Forest in December 2013. I walked in on my first day quite certain that I would be chalking this up to yet another failed attempt at weight loss, especially when I saw that my weight had reached 105kgs. I had no clothes to exercise in and didn't even own a pair of sneakers. I wasn't even sure where you would buy them. I had convinced myself that by putting the needs of my husband, and children or any other person for that matter first, that I was being the best person I could be, the best wife, best mother. I had taught myself to believe that as long as everyone else was happy then I would be too. I was wrong.
I watched a good friend succeed with Vision Personal Training Frenchs Forest and was so inspired by her that I decided that maybe this might be possible for me too. From the first week my weight slowly dropped away. I began to stop looking down and counting the carpet tiles to seeing the beauty of the people around me. The fear slowly began to turn to excitement as each session drew closer. I began to believe.
I learnt the value of eating for my body rather than grazing throughout the day. I learnt that exercise could be fun. Before I really thought about it I was under 100kilos with a resolve to never return.
Through attending shopping tours and seminars I have had the chance to strengthen my knowledge and understanding about nutrition and exercise. I now balance out the day fuelling my body for its needs which in turn help me to balance the emotional highs and lows that we can all experience. I'm not perfect but I do keep going. If I choose poorly I no longer give up, I reflect, learn and begin again. I don't hesitate to ask questions no matter how small or insignificant they may seem.
Like all journeys I have faced obstacles and hardships and at times I have really struggled to maintain my enthusiasm, but it has been through these times that I have come to appreciate truly why Vision is so successful. Whether it has been an easy part of the journey or the hard the guidance, nurturing and understanding that I have received from my trainer has made the difference. He is always praising my accomplishments reminding me of what I have achieved, that this is my journey, my choices, and that I can and will achieve my goals regardless of what they may be.
Vision is personal. It should be. No two people are the same and as client of Vision Frenchs Forest I can acknowledge that whilst the fundamentals of nutrition and exercise may be the same we all walk our path in life and approach our goals differently. We are individuals.
I can see that the girl who began was nervous, timid, and so afraid of being noticed that she barely spoke let alone looked or acknowledged anyone. She didn't want to be seen. As the weight disappeared and the affirmation grew so too has my sense of self. I have found my voice, I am no longer afraid to express how I feel. I am encouraged to be the best version of me, physically and emotionally.
Weighing in now 33kgs lighter I am honestly amazed that I have come so far. I would not have believed that the girl who cried the first time she wore tights to the gym because people would "see her" would now be attending group classes, lifting weights, and entering fun runs. It is quite surreal.
I know without hesitation that I will continue with my weight loss, that I will enter more events and that I will continue to live a full life, something I didn't realise I was missing. I am a better wife, mother and friend because I have learnt to value myself as important. Vision Personal Training Frenchs Forest has taught me this. My opportunities are now endless and I will continue to explore and enjoy them all. I am not alone on this journey I have the support of my trainer and Vision family beside me.
I would encourage all people to join Vision Personal Training Frenchs Forest. I have nothing but absolute praise for all who work or train and their respective families. It is a true privilege to belong.
Bron Ballesty
Frenchs Forest Success Stories
Our holistic approach to emotions, education, eating and exercise has transformed thousands of people across Australia & New Zealand. Get inspired by the journeys of your latest clients.
Are you our next success story?
Give your goals the greenlight and join us. Book your free consult now.