Before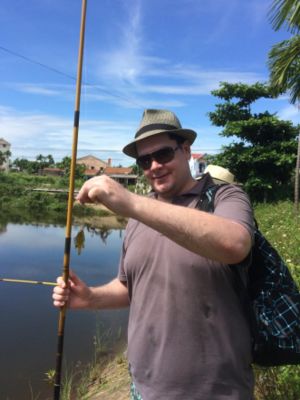 After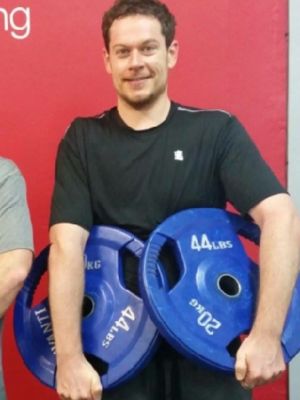 Tell us about your life before joining Vision Prahran?
Going out for seemingly endless drinks, coffees and meals and living it up! Being social butterfly and going to shows regularly, loving a drink and delicious food. I found myself cooking less and less with takeaway becoming a staple and later a comfort. These were all becoming "Groundhog Day" occurrences. This led to weight gain and a decline in confidence generally. I found myself thinking frequently that I should do something about my increasing weight and discomfort in my own skin. I became more and more uncomfortable in social settings, and even at work. I dreaded entering a room and thinking "Who's looking at me?", "Do I look huge in this?" "Are they listening to me? or just entertaining me thinking I'm getting bigger?" along with a barrage of other negative and self-depreciating comments. Riding a rollercoaster of justification and denial, I was always finding an excuse or a diversion from facing-up, taking control and doing something about the situation, as well as something for me, rather than for others. On top of all of this was the added punishment of knowing I had lost weight previously with Personal Training and I struggled to understand how I'd allowed myself to get back in this position.
We received a Vision Personal Training flyer in our letterbox and I thought was this another "We have to do something, so we should do this…" moment? I was reticent to commit to, and agree I wanted to do something. I knew and felt I had to do something for my partner, and I knew and felt I had to do something for us. I felt however, I was a hypocrite in fronting and saying I wanted to as well, all the while supressing these feelings and thoughts I was keeping to myself. I felt "pushed" by my partner. Duplicity, I showed I was persuaded (but I wasn't, at that time at least), and we made an appointment and spoke with Nathan in studio. I walked into that initial consultation feeling embarrassed, ashamed and a shadow of my former self. I was reticent to opening-up and somewhat defensive to the process.
You know it was difficult to both admit to and acknowledge this. Revealing it feels like a declaration of (my) truth. It's cathartic, as well as inspiring looking back from where I have come from! I feel more alive that I can ever remember and genuinely want to share my journey with anyone. No matter how low you may feel, results and your journey to success really and truly is possible with Vision! Throw yourself wholly and solely into it, albeit it for only a relatively few short week's commitment and discover what you never thought you could do or achieve was actually possible!
What results have you achieved at Vision?
lost over 40kg's in a little over 6 months!
100.5cm total loss to date
Massively increased my fitness and strength!
Completed runs and events that I never thought I could ever (and would never) have done;
10km Melbourne Marathon
14km City 2 Sea
15km Sri Chinmoy
16km Run For Kids
Currently booked for ½ Marathon in May for Sri Chinmoy and Melbourne Marathon in October 2016.
Currently considering a Spartan Race in June, and even Tough Mudder!
Regained my confidence and rediscovered my love for getting out and being active.
Made amazing new friends
Had a lot of fun along the way!
What impact has Vision had on your life ever since achieving your amazing results?
I truly know that food, even more so than exercise, is critical to (my) your success and wellbeing. I now believe and know that all results (whether great, good or no so good) are all part of the journey. There is no "usual" or "expected" result and your hard work, commitment, dedication, focus and persistence will see you succeed. Vision (and my trainer) has provided the framework and information having allowed and fostered further development and growth in health and fitness, as well as in my weight loss journey. These life lessons, along with the tools and practical ways of managing a "modern" lifestyle, all the while being social, successful and above all healthy, is what makes Vision so unique. Vision has enabled me to achieve phenomenal results, while focusing and addressing underlying problems to support me in my journey with some amazing successes along the way.
What are some of your defining moments during your journey?
My 10kg, 20kg, 30kg and now (exceeding) 40kg milestones! That 1st 10kg's is such an amazing moment, especially holding that weight again for a photo! It drives and inspires you to achieve so much more on your journey! Try holding 41kg's as weights!!
Seeing the changes in me for myself, and feeling and recognising I have regained, and continue to build my confidence. Clothes no longer fitting, belt notches shrinking and then replacing the belt itself! Comments and reactions from people inspiring me to continue and push harder for continued results.
Exceeding my goal of 40kg weight loss was just so important and significant for me. Seeing a number on the scales that I hadn't seen in years, and getting back to and beyond the weight the last unstructured Personal Training had assisted me to. Seeing a number on the scales that I can't even remember ever being in living memory, and having sailed almost through all of the 80's!
Seeing my face change, feeling and recognising my confidence returning and having clothes becoming way too big! The feeling of having people comment as well as reactions from those that had not seen me for some time, even from those who I saw regularly when they started noticing the significant changes.
What advice would you give someone who is currently thinking about taking a positive step towards their health and fitness?
Just do it! Accept you may never be fully "ready" to start, it's about taking that 1st step and embracing the program and support system and community at Vision.
Take that leap of faith. Don't let your "reasons" control you as the excuses they ultimately are. If you really want to make a positive step then take it! If you want something then you have to make it happen - Commit to giving it a go! No amount of that rope we give ourselves will save us. Ask for help, and know that it's abundant along with passion, support and an amazing community at Vision Prahran! Get started today and come in and say
Prahran Success Stories
Our holistic approach to emotions, education, eating and exercise has transformed thousands of people across Australia & New Zealand. Get inspired by the journeys of your latest clients.
Are you our next success story?
Give your goals the greenlight and join us. Book your free consult now.