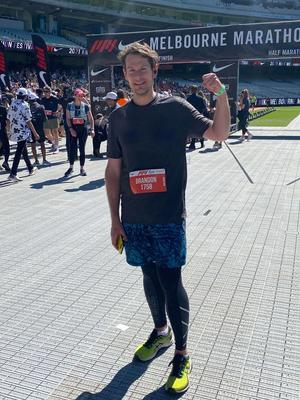 Brandon's success story is one of perseverance, dedication, and hard work. After losing 40kgs with the help of Vision PT Prahran, Brandon decided to set a new challenge for himself - running a marathon before he turned 40.

With the support of the team at Vision PT Prahran, Brandon began a run program consisting of three runs per week. He started with short distances, gradually increasing his mileage as he built up his endurance and strength. He also worked on his nutrition, ensuring he was fuelling his body with the right foods to support his training.

It wasn't always easy. Brandon faced challenges along the way and moments of self-doubt. But he kept pushing forward, never losing sight of his goal. He reminded himself of the progress he had already made and how far he had come since the journey began.

Finally, on December 12th, 2021, Brandon entered the MCG to finish the Melbourne Marathon. The emotions were high, the crowds cheered as he ran past, giving him the extra boost he needed to keep going to the finish. And after 4 hours and 17 minutes of running, Brandon crossed the finish line, exhausted but elated.

The feeling of accomplishment was indescribable. Brandon had set a goal for himself and had worked tirelessly to achieve it. He had proven to himself that anything is possible with hard work and determination. And he had done it all with the help and support of the team at Vision PT Prahran.

Brandon's success story is a reminder that no matter where you start, with the right mindset and support, you can achieve your goals and create a brighter future for yourself.
Prahran Success Stories
Our holistic approach to emotions, education, eating and exercise has transformed thousands of people across Australia & New Zealand. Get inspired by the journeys of your latest clients.
Are you our next success story?
Give your goals the greenlight and join us. Book your free consult now.