Before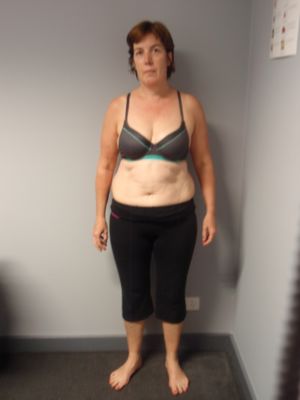 After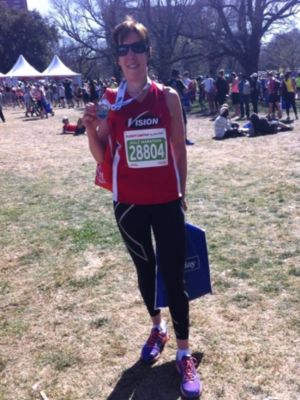 Tell us about your life before joining Vision Personal Training?
Before joining Vision Personal Training Hawthorn, I had tried many ways to lose weight and become fitter, being a member of multitude of gyms and keeping up a regular programme of walking on my own or with friends.
Early 2013 I was feeling particularly frumpish, I recognised that the current gym I was attending was making no difference with no progression in my fitness and I wasn't enjoying attending the gym. My clothes were becoming tighter and I was lacking confidence in myself and becoming very unhappy with the way I looked.
It was at this stage that I met Alex and Tom who were promoting their new Studio. I signed up for the information session and haven't looked back.
What results have you achieved at Vision Personal Training?
The results I have achieved at Vision have amazed not only myself but my family , friends and work colleagues. I have lost 14 kgs and have been able to maintain that weight loss for over 12 months. Not only that, I am fitter than I have ever been before and ran my first half marathon recently. I have never been a runner and would not have believed that I would ever enjoy this form of exercise.
My nutrition has improved and I am now able to confidently make choices to suit my new lifestyle.
What impact has Vision had on your life since achieving your amazing results?
Vision has changed my whole outlook on life. I recognise that it is the combination of both food and exercise that makes the difference. Although I was aware of this prior to joining Vision, I am now armed with the tools to put this theory in to practice. The combination of one on one personal trainers to guide you, frequent goal sessions, online supports and apps to keep you on track and the support of the entire Vision team at Hawthorn who support you and encourage you all the way has been the key to my successes. Our achievements are their achievements.
I am now a more confident person who is happy to dress up and go out and enjoy myself. I am so proud of what I have achieved including my most recent goal- the half marathon. I know that I am setting good examples for my children and friends to encourage them to live healthier lifestyles, but also to never give up and never say never.
What are some of the defining moments during your journey?
I guess the stand-out defining moment since I joined Vision would be the half marathon that I ran recently. I would never have dreamed of attempting a half marathon prior to this, in fact I had never run outside at all, so it was certainly an achievement and one that I am very proud of.
At the time I achieved goal weight, Alex and Tom presented me with a series of my photos taken during the previous nine months. The obvious change in my body shape over that time was very clear and another motivating factor that has kept me on track ever since.
What advice would you give someone who is currently thinking about taking a positive step towards changing their health and fitness?
My advice would be to grab the opportunity with the confidence that the Vision philosophies bring successes again and again and again.
Not only this but you will have loads of fun in the process. The Trainers are all there to support each and every member of Vision and the variety of programmes and challenges are aimed at everyone achieving these goals …and with a smile!
Not everyone is a runner and I have seen many friends achieve their goals without hitting the roads and running. Each client has their fitness tailored to suit their own fitness challenges.
It won't happen unless you make it happen.
*Individual results vary based on agreed goals.
Hawthorn Success Stories
Our holistic approach to emotions, education, eating and exercise has transformed thousands of people across Australia & New Zealand. Get inspired by the journeys of your latest clients.
Are you our next success story?
Give your goals the greenlight and join us. Book your free consult now.