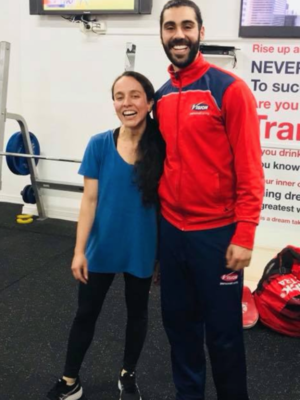 Tell me about your life before Vision?
I've always been in some way an active person, but never a gym/weight training fan. My activities included cycling, hiking, climbing and pretty much anything that would keep me moving and outside four walls.
After a knee injury, I had to step back and stay away for a while. I was in the peak of my performance and going from several weekends having fun outdoors, to several weekends at home which was challenging and boring. Rehab started straight away, with Physiotherapy and Pilates. However, I knew that focused and efficient weight training could speed up the recovery but could also aggravate the injury. I also knew that improving nutrition and overall body condition would make the return an easier and smoother process. After months of consideration (supervised versus non-supervised training), I decided to invest in personal training and that's when I joined Vision.
What results have you achieved and what are some defining moments during your journey? How has life changed for you?
When Youssef came into play, I was more than a year out of action. The only thing I was doing was the rehab exercises from my Physiotherapy and light Pilates once a week. But honestly, I always struggled to stick to those exercise routines and was a little sceptical if I would adapt well in a gym environment.
At the same time, I knew improving nutrition has been a long-term goal for me. Being someone who works with cardiovascular diseases and diabetes, I know good nutrition should be taken seriously. And I was doing exactly the opposite! I've never been very organised with my meals, loved chocolate way too much (assumed weakness!) and always used the busy work/personal schedule as the perfect excuse. I knew this needed to change.
Youssef helped to improve my nutrition via the food diary and to slowly recover muscle strength in both injured knees; but most of all, he kept me motivated to go through my exercise routines that otherwise I'd never get done by myself. He never complained about my unusual questions, as my profile wasn't quite of a regular gym person, and patiently helped searching for convenient and healthy food options for my camping/climbing adventures.
Around 4 weeks after the beginning of my training, I was back in action, spending 4 days climbing and hiking in one of my favourite spots in Victoria and with a much better meal plan! I knew camping food could be tricky, so we planned in advance, allowing me time to check with him my options and for meal prep/grocery shopping.
Now, more than 9 weeks later, I've got into the habit of organising my meals in advance, went back to bouldering, completed more day hikes (ranging from 5 - 16 km), slowly started riding my bike again (I almost forgot how much I loved cycling!), already organised my next indoor climbing session (counting down the days!) and all of this without mentioning the almost 3kg down that came during the journey.
What is your favourite thing about training at Vision?
Vision doesn't feel like a conventional/cliché weight training gym. The team is great and welcoming, the environment is motivating (when Luke is inspired, the soundtrack is amazing! Haha!) and the process is personalised. Being someone enrolled in a Fitness Program with a focus in injury rehab rather than a specific weight loss made me feel a bit a fish out of water at the beginning. But this has quickly been overcome when I started getting the results I wanted.
What advice would you give to someone in a similar situation to where you were?
That this is a journey that may seem challenging from time to time (we all have our ups and downs), but that needs to start from somewhere. Nine weeks is a short period of time and my journey is still ongoing but being able to do what you love again is priceless! I still have good/bad knee days and moments of doubts, but Youssef is always up for the rescue adapting and changing my training program to keep me moving. Trust the process and the trainer, and the reward will come!
Prahran Success Stories
Our holistic approach to emotions, education, eating and exercise has transformed thousands of people across Australia & New Zealand. Get inspired by the journeys of your latest clients.
Are you our next success story?
Give your goals the greenlight and join us. Book your free consult now.