Before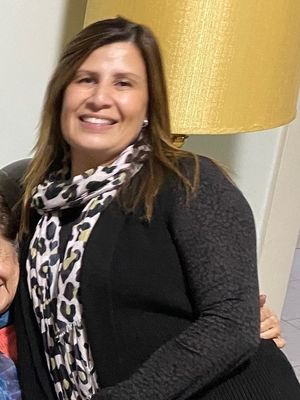 After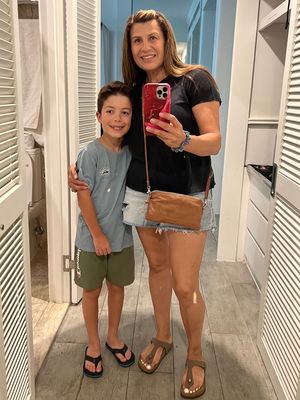 Before beginning my journey with Vision Bangor I had struggled with yo-yo dieting, weight gain and increasing unfavourable fatty liver and cholesterol levels.
Turning 50 and being an older mum I realised it was time to find a new way of living for the sake of my son. I walked into Vision Bangor in May 2021 after a holiday on Hamilton Island where I realised I couldn't enjoy all the physical activities that my son wanted me to do with him. I felt like I was letting him down as well as myself. It also coincided with my annual blood test results where my doctor was very specific about getting the rising cholesterol levels down and was concerned about the fatty liver reading, especially as I was entering into the next stage of my life, my 50's!
I was inspired by one of the mums at my son's school who I had watched have fantastic results at Vision. I chatted to her about what it involved. I didn't want just another gym, I had been to gyms all my life. I needed a lifestyle change as well as a sustainable eating and training plan. I spoke to Luke and was instantly intrigued as to what they could do different. It seemed really simple.
In no time I joined up and had started. I was very motivated by not being "on a diet" and losing weight, I was just tracking my food and still enjoying some of the things I liked. It became an education about food and how to make food work for you, not against you. I quickly started to see results in weight loss and started feeling better, I wasn't as tired or as irritable, my body aches and pains reduced, my mood lifted, I didn't struggle with my clothes as much, I was sleeping better and laughing more. And I wasn't on a diet!
Then COVID hit again and with that came our longest lock-down, this made me more determined to not fall back into old patterns or give up. I was lucky enough to be able to continue with my training and tracking my food had become a part of life. Not only did I survive lock-down without any weight gain, I also survived Christmas!
Fast forward 9 months later, I was due for my blood test to see if the results that I could see on the outside were being reflected on the inside. My doctor was surprised at my results. When she told me, I must admit, I was surprised as well. Fatty liver reading had halved from 88 to 44 and cholesterol was down to a more respectable reading of 5.7 from 6.2, Triglycerides, LDL and HDL also marginally reduced. This, I felt was a really pivotal moment for me and something I'm really proud of. What had started off as just a bit of a weight loss goal turned into a sustainable, enjoyable way of life and 8kgs lighter.
Fitness has become a part of my life, now on my walks with my 10yr old son we have sprinting competitions and I can proudly say I can keep up with him. I am now fitter, stronger, happier and healthier from the inside out. I couldn't have done it without my trainer Luke, his understanding of health and fitness, his sense of humour and his motivation to help me on my journey has been my motivation to keep going. Thank you Luke for always keeping me accountable! And thank you to all the amazing Vision Bangor trainers you all make losing weight and keep fit fun!
Bangor Success Stories
Our holistic approach to emotions, education, eating and exercise has transformed thousands of people across Australia & New Zealand. Get inspired by the journeys of your latest clients.
Are you our next success story?
Give your goals the greenlight and join us. Book your free consult now.