Before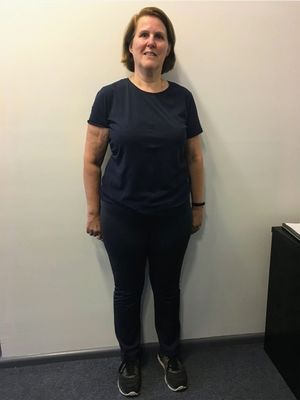 After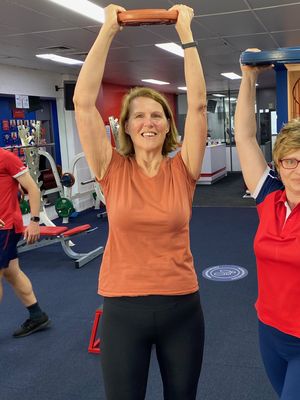 After watching two friends get amazing results from being at Vision, I encouraged others to join! I never once thought about myself joining until Covid hit and my daily routine of drinking champagne and eating cheese and biscuits on the couch had to stop. I was mentally ready! I threw myself into everything that was available - seminars, shopping tours, group training as well as two personal training sessions a week with my wonderful trainer Natalia. My goal was to lose 5 kilos and to improve my fitness. With a hugely positive environment, support by a team of professionals I stuck to my program and lost the 5 kilos very quickly.
'What's next?' asked Natalia. "Oh, do you think I can lose another 5 kilos?" I was so surprised as I really didn't think I could! Natalia has taught me so much. My personal training sessions with her are so enjoyable and I'm learning more about myself every week. Even now I'm learning new exercises and her encouragement, sense of humour and thoughtful conversation have been a pleasure.
The program had structure and focus and I was motivated to get to my final goal weight in 9 months. I had lost 24 kilos, 5 years off my bio age, arrived in the optimal range for total fat and lean body mass and it absolutely blew my mind! I didn't think it was possible to be the same weight as I was when I married 27 years before. I achieved many personal firsts which I am still excited about. I don't recognise myself in the mirror but with so many wonderful comments from friends and family it is starting to sink in.
I am now addicted to the Studio. I love all the group training session I attend, coffee club on Saturdays is a highlight of the week which I feel is a treat after hard work. I am still challenged to get fitter and have leaner muscle and to feel comfortable within myself. It's a goal in progress. Being surrounded by like minded members and great trainers, its always a pleasure to walk into the studio feeling so welcomed. I encourage anyone who has fitness goals to join Vision. It is not a burden at all. It is not hard work and it's enjoyable!
Bondi Junction Success Stories
Our holistic approach to emotions, education, eating and exercise has transformed thousands of people across Australia & New Zealand. Get inspired by the journeys of your latest clients.
Are you our next success story?
Give your goals the greenlight and join us. Book your free consult now.