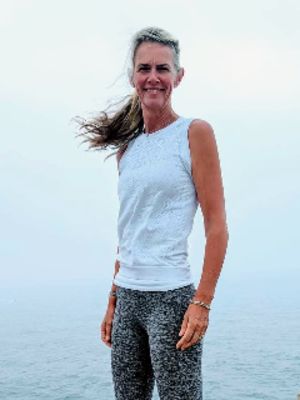 2019 has been a huge year of change for me, and much of that can be attributed to Vision Personal Training Bondi Junction.
Trevor and I arrived in Bondi in January 2019 after 10 years of living in Hong Kong where we enjoyed a great, but VERY social life.
I was feeling worse than ever … not only had I piled on the weight but was more concerned about what my unhealthy lifestyle was doing to me on the inside. After a couple of months here I was starting to feel a little better, had dropped a couple of kilos but knew I needed more, and also was feeling a little lonely.
Then one day in April, a Facebook Ad popped up offering a free Bioscan at Vision PT - and so it all began!
From the moment I walked in the door to meet Max I felt so welcome, it was so different to any gym I have ever been to before. Everybody knew my name, everybody said hello and I left (having signed up!) feeling really excited ….
After a while and much thinking, I came home and announced to my husband that I had a crazy idea, I didn't want to go back into Real Estate (my career of the last 15 years), I wanted to be a Personal Trainer. It seemed madness - a career change like that at age 52 but the more I thought about it the more I wanted to do it, I want to help people change their lives - as Vision, and most especially Chris Enahoro, have helped me to do!
As 2019 comes to an end, I feel better than I have in a long time. I am 11 kgs lighter, my health score has gone from 77/100 to 92/100 and my Bio age is down 4 years!
I have just completed the 10-week Personal Trainer course at the Australian Institute of Fitness and will be doing my work experience at Vision in January before graduating in February - huge thank you again to Max, Chris and the team for supporting and encouraging me.
Vision PT Bondi Junction has truly influenced my life in many ways, I have learnt so much, I feel healthier and stronger than ever, I have met so many great people and this time last year I would never have dreamt I would be having such a change in direction and I feel really excited for what's to come.
Happy New Year everyone and I wish you all the very, very best for 2020!
Alexis
Bondi Junction Success Stories
Our holistic approach to emotions, education, eating and exercise has transformed thousands of people across Australia & New Zealand. Get inspired by the journeys of your latest clients.
Are you our next success story?
Give your goals the greenlight and join us. Book your free consult now.