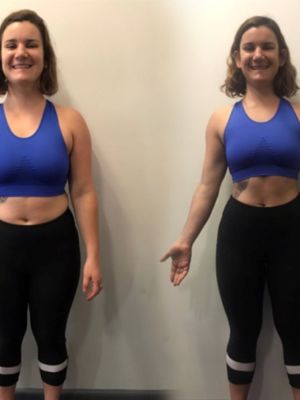 I'm a BIG believer in everything happening for a reason and for me, finding Vision has been absolute proof of this.
Finding Vision has not only enabled me to live and breathe my passion- but has also helped me continue to challenge myself and strive to walk in the shoes of others. I was given the opportunity to take on a 9-week challenge, of which the timing could not have been more perfect! I had just moved to Sydney after spending 9 months working and travelling in the UK. I was taking some much-needed rest and relaxation from the usual stresses of life. During this time my physical health took a back seat, while I was enjoying travelling and of course plenty of socialising and meeting some wonderful people from the other side of the world! Three weeks after landing in Sydney and having numerous interviews with jobs that just weren't quite fitting the bill, I met the gorgeous Lauren from Vision Personal Training Bondi Junction during a workout at a local gym. During our friendly chat, Lauren just so happened to mention she was also a Personal Trainer but was about to move over to the UK and who's team were looking for a new Trainer to join them. What can I say! The next day I was in the Studio meeting the crew at Vision Personal Training Bondi Junction and little did I know this was the start of a whole new and exciting chapter of my life. One that I had moved back across to this side of the world for!
I left the UK the strongest I have ever been mentally and emotionally, and I have now been able to (with the right care, time and effort) match this strength with my physical body. I have been extremely fit and physically strong before, however without the mental toughness, and ability to be emotionally in tune with myself, the physical strength and fitness quickly meant nothing to me, because I was not in the mental space to be able to appreciate my fitness or my body the way it deserved. I quickly fell down the never-ending trap of not ever being satisfied with my body's abilities or look. I was fortunate enough to have a major wakeup call and realise I really needed to start putting the same amount of care and attention to my mental and emotional health as much as my physical health before I could really ever find a place of peace. I have had a lot of help from many amazing people in my life to date and being where I am today. When I look back on my life over the last two years, I can honestly say everything I have been through mentally and emotionally has prepared me to be brave enough to grow into the person I have always wanted to be. It's pretty exciting that Vision has been a big player in this. I also need to mention the incredible community that we have, I felt it the moment I first walked up the stairs and into the Studio. The energy that each Trainer and Client brings into the Studio is so inspiring and is what makes me so grateful to be where I am today.
My goal for my 9-week challenge was to go through the same journey that I would soon be walking beside my Clients on. I followed my macros by creating a number of daily plans in the app and saving some of my favourite meals so it was easy to track my food and make me mindful of what I was choosing to fuel my body with. I coupled this with drinking lots of water and sticking to my training plan, basically doing everything that Vision had promised would get me to my goals. The results speak for themselves. I love being able to practice what I preach, and finding Vision has given me this incredible opportunity that I will forever be grateful for.
When I decided to move to Sydney, I was taking a massive risk by leaving the comfortable to enter the unknown in the hope of finding an opportunity to inspire and help others reach their health and well-being goals, one of my biggest passions in life. I would be lying if I didn't say I wasn't scared as hell about this decision to up and move my life and start all over again. But I can honestly say it has been one of the best choices I have ever made. My life is back in alignment with my values, what is most important to me, and I have landed myself a strong, inspiring and motivating support crew along the way... getting to do what I love every single day!
Here's to many more exciting adventures to come with the Vision Personal Training Bondi Junction family. I can't wait to see more people working towards and creating a life they love through taking care of their health and well-being. Being in it for the long haul is one of the best decisions you could ever make, thinking long term, wanting real results and doing it with real people by your side. #wegotyou #thevisiondifference
Bondi Junction Success Stories
Our holistic approach to emotions, education, eating and exercise has transformed thousands of people across Australia & New Zealand. Get inspired by the journeys of your latest clients.
Are you our next success story?
Give your goals the greenlight and join us. Book your free consult now.