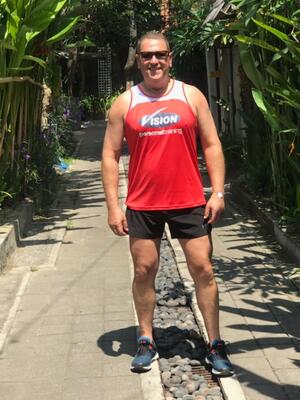 I joined Vision Prahran as I wanted to lose some weight. What I found, was a way to balance a very busy lifestyle and get fitter by the day!
If you know me, I travel a lot. And I mean a LOT! I travel both domestically and internationally for work which means it is not always easy to maintain a routine I would have at home.

Before joining Vision Prahran, I never really did any exercise. I tried other gyms and just felt like I didn't fit in. Even with a personal trainer, you are still on your own when they are not training you.

At Vision, it is not only about your sessions with your trainer, it is also about providing a space where you feel included and never feeling like you are alone. Someone is always on hand to give you a some assistance. There are many small group training sessions to keep your fitness up which are fun and engaging. In fact, I have made many friends and it's great to have people with you on a similar journey. Run/Walk club on Saturday's has become a great social event with Coffee Club afterwards.
I love food! I have learnt that carbs are not the enemy. I eat all the things I love to eat, including pasta, noodles and even bread. My trainer works with me on meal planning so that I don't miss out on my enjoying my favourite foods. It is all about balance - the one big thing I now live by.
My trainer Drew, works with me on me. Every 9 weeks, we review our goals to keep training fresh and different so it doesn't get boring. This also allows me to adjust my goals depending on my work and travel schedule and to change my PT session when travelling.
When I travel, I am going to enjoy the local cuisines of the country but now I know how not to miss out and still achieve my goals. When I am away, I find walking the best to help me maintain my fitness, plus you get see more! I will always try to do a gym workout first this in the morning so it is out of the way and you don't have to think about it again until you wake up again.
I love Vision's flexible and tailored approach. The team at Prahran are so welcoming, encouraging and supportive. I found my happy place!
Prahran Success Stories
Our holistic approach to emotions, education, eating and exercise has transformed thousands of people across Australia & New Zealand. Get inspired by the journeys of your latest clients.
Are you our next success story?
Give your goals the greenlight and join us. Book your free consult now.