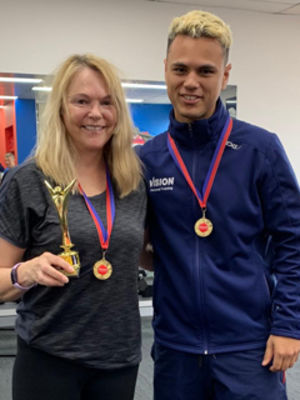 Hi, my name is Tracey and I have been a Client with Vision Mortdale for the past 12 months. I joined in the first couple of weeks after they opened last year from a flyer left in my mailbox. I call this my little spark. The reason why I joined is that I had reached a time in my life, where I needed help, and knew I couldn't do it alone. I lacked the motivation and drive I once had and my work commitments had become my number 1 priority above all else – even my own health. Randall (and the whole team) were with me every step of the way. Their ever-present guidance and support is invaluable. With Randall's unwavering help, my approach to consistency and accountability has increased along with the importance of goal setting and steps on how to achieve them. I have always loved hard weight training and the feeling of DOMS afterwards, and Randall makes it fun too, particularly on 'leg training days', and with the addition of the leg press (my absolute favourite piece of equipment) – even better! Vision has helped me bring back a work-life balance and I am slowly but surely getting my 'mojo' back.
Mortdale Success Stories
Our holistic approach to emotions, education, eating and exercise has transformed thousands of people across Australia & New Zealand. Get inspired by the journeys of your latest clients.
Are you our next success story?
Give your goals the greenlight and join us. Book your free consult now.