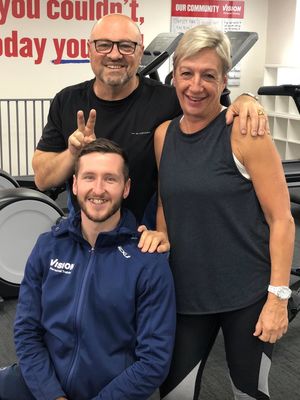 We joined Vision Mortdale after seeing what great results my daughter was achieving. We gained so much weight during Covid. I was getting very disheartened about everything, especially not being able to fit into my clothes. We both felt that we had no energy. My daughter was starting to lose so much weight, had so much more energy and was a happier person, so with her encouragement, we joined last November. It was the best thing we've ever done! Andrew became our trainer and was so motivating and positive from the very beginning. We could never stick to a diet but this is not a diet, it's a healthy way of eating everyday food and that's what Andrew taught both of us. He was there for both of us every step of the way. We both used to text him at night with food questions and he always replied immediately. He encouraged us to do the group training on top of our PT sessions. The weight started dropping off. Geoff has lost 13kg so far and I have lost almost 8 kilos, 3 kilos more than my goal weight! We both feel so much better and it has made us want to continue on this journey. Vision Mortdale trainers are all so friendly, happy and encouraging. They know everyone's name and they make you feel like family. Vision has become part of our lifestyle, we are there most mornings. What a great way to start the day! Seriously, if you are considering changing your life for the better, call Danny to set up a meeting, you won't be sorry!
Mortdale Success Stories
Our holistic approach to emotions, education, eating and exercise has transformed thousands of people across Australia & New Zealand. Get inspired by the journeys of your latest clients.
Are you our next success story?
Give your goals the greenlight and join us. Book your free consult now.