Before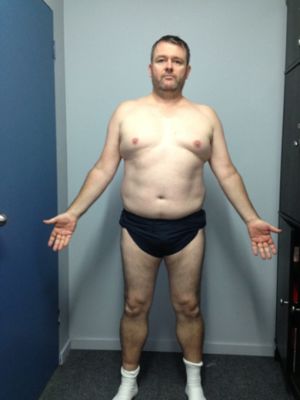 After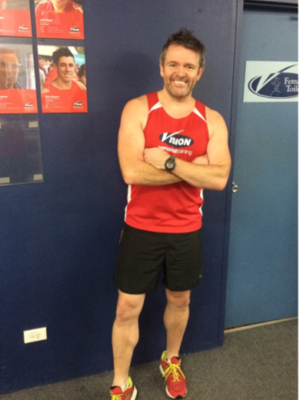 Tex Whitney has slowly grown into one of the superstars of the Studio. After being recommended to Vision Drummoyne by his chiropractor, Tex walked (barely) into the studio in June 2013. He explained that it would take him over 2 minutes to be able to get out of bed and stand up due to his excrutiating lower back pain. 15 months on, he has just completed his very first half marathon after losing over 26kg! Read what he had to say in a short interview.
What was the state of your health and fitness when you started and what affect was this having on your life?
When I started at Vision my poor health and fitness was affecting every aspect of my life. I had back pain, little flexibility, and was finding the long working days required of me increasingly exhausting. I felt big, uncomfortable and constantly tired and I looked it.
What did you find was the most useful tool at Vision?
I found the information I learned at Vision about nutrition to be invaluable. I hadn't realised how little I knew until i went on the Vision shopping tour around Coles. I can now compare nutrition labels on similar products with confidence to make better shopping choices.
What impact has your new health and fitness had on your new life?
My life is very different now. I have a new found confidence that has a lot to do with my new smaller wardrobe. It's not just big goals like long runs or bike rides, but so many smaller things. Getting out of bed or off the couch or in and out of the car, climbing stairs - are not the challenges they once were. My blood pressure is back in a healthy range and my back pain is manageable now that I feel stronger in my core.
If you were to recommend Vision Personal Training Drummoyne to your friends, what would you say?
The Vision Personal Training experience is more than just lifting weights or hitting the treadmill. Sure that's an important part of it, but the bigger picture approach to understanding where you're going wrong and what you can do to turn it around with a great system and a team that'll keep you accountable.... Well it works for me. It's part of my lifestyle now. I'm working hard but it's still a whole lot of fun.
Congratulations on an amazing transformation and journey Tex, bring on the next challenge!
Drummoyne Success Stories
Our holistic approach to emotions, education, eating and exercise has transformed thousands of people across Australia & New Zealand. Get inspired by the journeys of your latest clients.
Are you our next success story?
Give your goals the greenlight and join us. Book your free consult now.