Before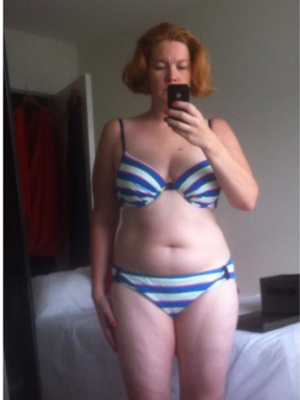 After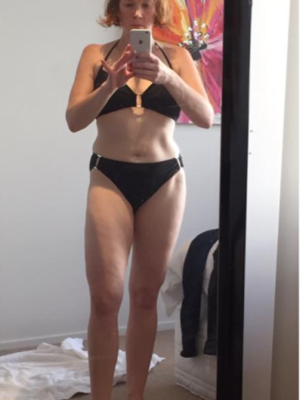 I began my journey with Vision Personal Training on the 1st January 2015. Prior to this I had spent a few months getting back into some regular exercise and starting to think about getting healthier, but really didn't have a focus. Six months later and my life has been changed immeasurably by the Vision philosophy, mainly their approach to focussing on my diet. I can't believe that it took me until I was 40 to really understand nutrition and what this means for me and how I look and feel.
There are so many things I love about Training in the Studio - I love that the trainers all know you by name, they are always there to help and encourage….everyone is on your journey with you. I love that there is a small group of people who are all on the same journey and I love is that there is no queuing for machines and equipment.
When I joined Vision, so did a number of my friends. Doing this journey with other members was AWESOME! We have changed so many of our habits - we drink less together and exercise more together, our weekend cheese platters are now healthy vegetable platters, our dinners out that involved lots of carbs are now carb free….the principles are easy to follow but what really helped instilling this is doing it with others. I LOVE the Vision team - everyone knows your name, where you are at and what you are doing - there are not many gyms that can proclaim that. In the past, I have always felt like a number, often with little acknowledgement of who you are and your goals for being there. Accountability seems so much more powerful when there are people invested and genuine in helping you succeed.
My understanding of nutrition has changed my life! Originally, I was a bit cynical and felt like it may be very restrictive, however understanding what I should be eating from a carb/fat/protein perspective really helped me understanding the interrelationships and how to balance what I was eating. Historically, cutting our carbs and eating fruit and vegetables had always helped me with my weight loss…but after a period of time I would revert to bad habits. Understanding now the need for carbs, the impact that protein has on cravings and building muscle mass and knowing what to eat and when to eat is amazing. There are two things now that I often reflect on - the first is why didn't know this stuff in my 20's as it would have changed my life, and the second one is I can't imagine eating any other way now.
In the first 9 weeks, there were really no challenges. I was really clear on what I wanted to achieve, I understood how I could make this happen, I had the support and most of all I had the right mind-set…I wanted this for me and was doing it for the right reasons. The following months I have faced a few challenges as I have re-found the balance in my life. Although I never felt deprived of food (or alcohol!) I have found a balance now that allows me to maintain where I am whilst engaging fully with my social life! Having recently met an amazing man who is a foodie and a wine connoisseur, this could have been problematic, but I have navigated through and using Vision principles have found a balance between indulging, living and exercising - it's perfect. By doing the hard yards up front and then a bit of trial, i am really confident moving forward.
One thing I have struggled with, but now sorted is that it is not all about the scales…it is also about my measurements and how I feel. I am now the same weight I was 25 years ago - WOW! Better than that, I have a body that I never could have imagined….I feel 'hot' and confident for the first time in my life. Through Vision (and a little bit of work before Vision) I have lost 15kg and it's pretty amazing. Vision has helped me change my body shape in a way I can't describe….if I continued trying to do it myself I never would have had the results I have had. Having always been a size 14 or 16, I now go shopping and am buying size Small, 10's or 12's….there are no words to describe how awesome that feels. Hearing a shop assistant say 'You will be a small in that top' is something I will never tire of….funnily enough I am still surprised when they say that!
I am now at a weight I am confident at, buying clothes in small sizes and loving that I can balance exercise and my passion for food and wine! I now want to maintain where I am….I totally believe I will never go back to my bad food habits and have a very sustainable lifestyle. I am loving my exercise regime and love mixing it up with weights, cardio, boxing and running….I love the variety and it's so much a part of my way of life now. For my health, and mental health, I will continue to be as active as I am now. I also know that if I decide to lose a bit more weight, by going back to basics it would be really easy as I now know the winning formula.
Ponsonby Success Stories
Our holistic approach to emotions, education, eating and exercise has transformed thousands of people across Australia & New Zealand. Get inspired by the journeys of your latest clients.
Are you our next success story?
Give your goals the greenlight and join us. Book your free consult now.