Before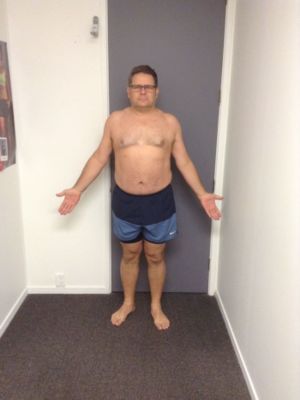 After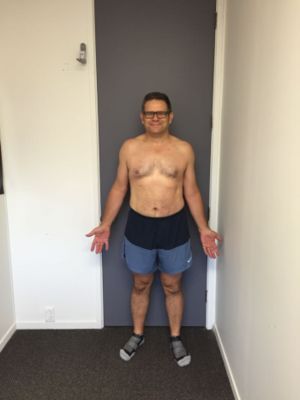 "You will be a LARGE, Sir."
Last week I had to go clothes shopping as nothing fitted anymore. So, when the shop assistant said "You will be a Large, Sir", when I was looking at the shirt rack I was quietly chuffed. YES! Down from the XL and even XXL racks I used to view!
After adding weight at about 1 kilo a year for the last 20 years, and only being able to lose a few at a time via all sorts of other means, some serious, like running 2000kms in one year and others not so serious, like giving up pies, it was time to take a real offensive on this battle of the bulge! Middle age spread is a real and heavy concept, and once you are in this zone you can get caught and before long you could be facing a problem of monumental proportions literally!

Last June, I heard Dean talking about Vision PT's 9 week Weight Loss Challenge, the penny dropped. I drop some pennies Dean's way and he'll help drop my weight. So, in I go for an assessment and a chat and I sign up. Sure, it's a reasonable commitment financially but after nearly a year I can categorically say this is one of the best decisions I have ever made.

The Team at Vision Personal Training are very professional and very friendly. From probably my second or third visit the whole Team seemed to know who I was and always had a first name welcome. My Trainer, Matt, is great. He ignores any sign of my weakness, totally glosses over my failings and frequent stops for breath and stands over me in a non-threatening way until I complete the task. A few times I have been taken to the limit and through the pain barrier!

The Vision VVT online diary system is pretty darned impressive. I can measure exactly what is in the foods I am eating and adjust my diet to keep the good and ditch the bad. Every so often they'll even email you a new recipe, and they are good! So, food planning and control is now becoming second nature, and believe me I hated the thought of some dietitian ruling my life (my wife have has threatened this fate for years).

As far as exercise is concerned I've never had any problems with that. As a keen jogger, I am used to cold dark runs just for fitness sake, but feeling the pain in my core at marathon distance told me that legs alone weren't enough to keep me going! So, the weights training and Monday night boxing have given me the variety I needed to get me enthused about fitness again. The Vision VVT online system helps record it all and my progress too!

There are the monthly Studio challenges.... these are killers, but if you don't take yourself to the limits you will never know what your limits are.

So after nearly a year, I am closing in on my goal of 15kg weight loss. That is one of those big water cooler bottles! So not only am I lighter but much stronger, a couple of weeks ago I even spotted an ab!! People are commenting and asking how I did it. One colleague calls me "toothpick" now!!
I am fitter, I am eating better, sleeping better. My pants are too big, my tight shirts now fit! Best of all, my running is much better. My casual training times have come down by close to a minute per km, and with Queenstown Marathon just 6 months away that improvement alone will mean I am having a beer (or two) probably half an hour sooner than last time!

So to Dean, Matt and the Team at Vision Personal Training Ponsonby - BIG THANKS from a totally satisfied previously pale, stale, male! Thanks to all the other people training at Vision Ponsonby, you are a great bunch of people. Encouraging inspirational and friendly all at the same time.


Ponsonby Success Stories
Our holistic approach to emotions, education, eating and exercise has transformed thousands of people across Australia & New Zealand. Get inspired by the journeys of your latest clients.
Are you our next success story?
Give your goals the greenlight and join us. Book your free consult now.