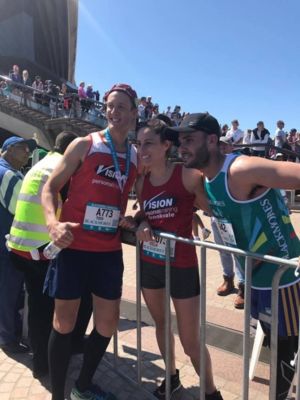 Health and fitness has always been a part of my life. I had ambitions, but not concrete goals or a plan of how to achieve them. There was always talk between Todd and I that we would run a marathon but I didn't really take it seriously until we sat down in January and he itemised a detailed plan that would see me finish a full marathon in under four hours. This was a plan that I wasn't going to ignore. The very thought of struggling for 42 km like I had in my first half marathon (where he literally ran beside me the entire way and dragged me across the finish line) was enough to make me wake up for every single training session, bright eyed and ready to go. Add to that the fact that he was also training for the marathon from virtually the same plan and I really had no excuse for missing a session. Initially the idea that I would be running for more than two hours every Sunday for sixteen weeks made me shudder.
However, as the plan progressed so did my fitness as well as my knowledge about how to endure both the ebbs and flows of what lie before me. Todd was my best resource teaching me about how to fuel my body and how to mentally prepare for not only the long runs but for the shorter sessions as well. Alongside my weights and strength sessions was interval training and countless hill sprints as well as learning how to warm up, cool down and recover effectively in an effort to avoid injury.
Basically, my training regime dominated my life and I could not have been happier. Naturally there were also bumps along the way. Initially the long runs left me exhausted for the rest of the day until I accepted the fact that I would have to forfeit eating poorly or staying out late in order to have the most gains every Sunday morning. Add to that no alcohol, learning how to manage chafe in places I never knew it could occur and contracting Influenza A four weeks out from race day and I had myself an abundance of reasons to simply pull the pin and call it quits. Nevertheless, here's where quality human beings make all the difference.
Having a support network like the one that I have is paramount. Foremost a husband who happily agreed to help me in any way he could so that I could achieve my goal. Secondly a family that included not only blood relatives but also all of the familiar faces at the Vision studio every day encouraging me to do my best. And finally, my Trainer and fitness mentor, running next to me, keeping me accountable and most importantly hitting the pavement with me for 35 km runs at 5am when it was four degrees outside.
Race day finally arrived and I crossed the line in 3 hours and 39 minutes. To say I was thrilled was an understatement. However, it's not just the adrenaline from hitting the pavement and achieving the goal that was set out months before. It's all the attention that goes into maintaining a healthy diet, drinking enough water and getting enough sleep that goes with making the unachievable a reality. Add to that all of the gypsy wisdom and spiritual stuff that many might roll their eyes at, but seriously if you don't say yes, I can do this, then you probably won't. If you don't have the right team behind you then all you have is a dream. Vision Personal Training at Brookvale nurtures a supportive culture where everybody knows your name. Goodness knows what my next goal will entail, all I know is one thing is for sure. If I set a goal and I follow the plan set out before me, most likely one researched and written by Todd, not only will I succeed but I'll also have a team of Vision Trainers and clientele cheering for my success.
Brookvale Success Stories
Our holistic approach to emotions, education, eating and exercise has transformed thousands of people across Australia & New Zealand. Get inspired by the journeys of your latest clients.
Are you our next success story?
Give your goals the greenlight and join us. Book your free consult now.