Before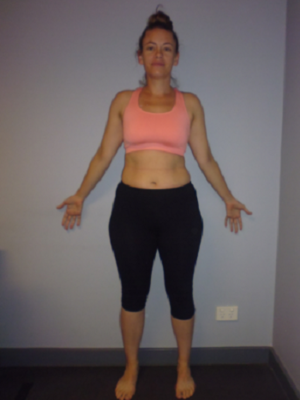 After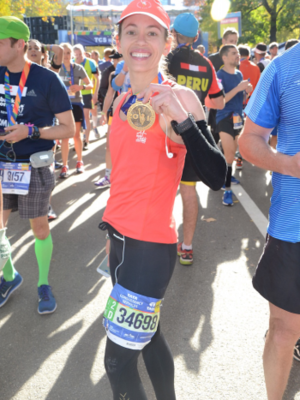 1. Tell us about your life before joining Vision?
I considered myself reasonably fit and healthy person. I had been a runner for the past 8 years and ate quite healthy, however I could not seem to get the next level of fitness, tone and or body fat %. I had been a Vision member at Bondi in NSW a few years prior and knew that their program was the key to great results, so after my wedding in November 2014, I decided to take the necessary steps to join. Called Vision Hawthorn, met with Ashild and joined the same day!
2. What results have you achieved at Vision?
What results have I not achieved… I am genuinely speechless at what I have been able to achieve with the tools from Vision and the guidance (or should I say direction, motivation and inspiration) of Guy, Matt and Ryan. I have lost over 10Kg, nearly halved my body fat, ran my first NY Marathon and achieve a PB while there.
3. What impact has Vision had on your life since achieving your amazing results?
This is my second time round at Vision Hawthorn, I took a turn about a year in and emotionally crumbled. Since returning, I have never looked back. Initially it took some courage to make the call (I had put on 14kg) however so glad I did. Alex welcomed me back with open arms, made me feel so so comfortable and teamed me up with the perfect trainer. I have never felt better in my life, I know that sounds cliché however it is so true. Alex, Tom & Ashild run a very tight ship, one that gives and demands great respect. These guys know exactly how and when to be or encourage accountability, their communication, engagement, education and community spirit is addictive.
4. What are some defining moments during your journey?
There are 3 that come to mind:
1) The day I spoke to Alex about my long-term goal, to run the big 5 marathons with NYC being the first on my list. I was struggling to understand how to go about getting accepted, Alex told me about a way to gain entry by raising money for Team For Kids; a NY based children's charity. Little did I know that this would be the first step to one of the best days of my life, the NYC marathon. Thanks Alex!
2) The advise that Tom gave me pre run day. I ran into Tom at a Breast Cancer charity event at the studio, he asked me how my training preparation was going for the NY marathon and I raised my concern about my limited sleep. He said that he used to worry about those things, however has taken the view that if you worry it will become a problem and that everyone is different. Have I considered that I may be someone that is able to run on 4-6 hours sleep a night? It was like a light bulb moment, I am one of those people, this is how I have spent most if not all of my career, running on 4 hours sleep per night, why is the marathon any different to a business deadline??? Thanks Tom!
3) Last, but not least… Guy. This kid has impact me in ways I find difficult to describe, I am yet to meet a male let alone a footballer who is as fun, professional, polite & respectful as him. His ability to practice empathy is admirable. He has taught me to be more patient, hold my core, keep my shoulders down, interval training is important and to take a dip in salt water to recover from a long run, but most of all to not take life too serious and believe in myself.
5. What advice would you give someone who is currently thinking about taking a positive step towards changing their health and fitness?
With so many choices out there when it comes to health and fitness, Vision stands out to me for its people, culture, education and tools. Vision is not just about weight loss, nor is it just a gym, it's a community that offers you access to a fit and healthy lifestyle. Vision connects you to people, tools, education and a community that will literally change your life. You can be as engrossed or remote as you like. Vision empowers you to be accountable for the choices you make. I am a goal orientated, data driven person. The food diary and weekly goals sessions have been crucial to my success. Not to mention the ongoing events that you can sign up for along the way. I cannot recommend Vision Hawthorn more; they truly are a diamond in the rough.
As Evan Esar says; Success is the good fortune that comes from aspiration, desperation, perspiration and inspiration. It is through aspiration, inspiration and desperation that I have exerted perspiration, I am one fortunate person.
Hawthorn Success Stories
Our holistic approach to emotions, education, eating and exercise has transformed thousands of people across Australia & New Zealand. Get inspired by the journeys of your latest clients.
Are you our next success story?
Give your goals the greenlight and join us. Book your free consult now.