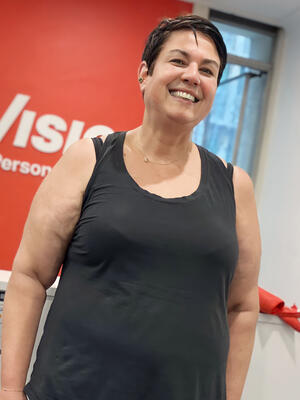 Prior to embarking on her journey with Vision, Sarah grappled with health challenges and found herself engulfed by demanding work commitments. These factors triggered a cycle of emotional eating, while her exercise routine remained virtually non-existent. As a consequence, she experienced weight gain, persistent low energy levels, and a general sense of dissatisfaction.

Determined to instigate a transformation, Sarah took the decisive step of reaching out to us. Since becoming a part of the Vision community, she has exhibited remarkable discipline by faithfully adhering to her personalised training routine, even in the face of certain injuries and setbacks that she has refused to let hinder her progress.

In addition to her unwavering commitment to fitness, Sarah undertook significant modifications to her dietary and alcohol consumption patterns, tailoring them to suit her lifestyle. This strategic approach enabled her to strike a balance between social engagements and her pursuit of remarkable results.

The outcomes of Sarah's dedication are nothing short of inspiring. She has shed 8 kilograms in overall body weight, including 5 kilograms of fat mass. Her body fat percentage has diminished by 2%, accompanied by a reduction in visceral fat. Astonishingly, she has managed to defy aging by effectively reversing 2 years from her biological age.

Sarah's remarkable journey stands as a testament to her resilience and serves as a beacon of inspiration for others. We applaud her achievements and encourage her to maintain the exceptional progress she has achieved thus far.
Hunter Street (Sydney CBD) Success Stories
Our holistic approach to emotions, education, eating and exercise has transformed thousands of people across Australia & New Zealand. Get inspired by the journeys of your latest clients.
Are you our next success story?
Give your goals the greenlight and join us. Book your free consult now.