Before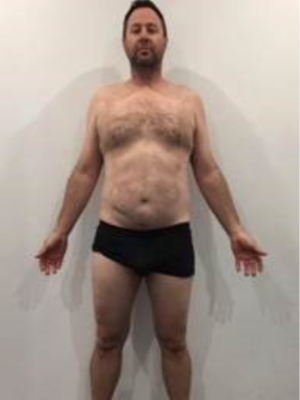 After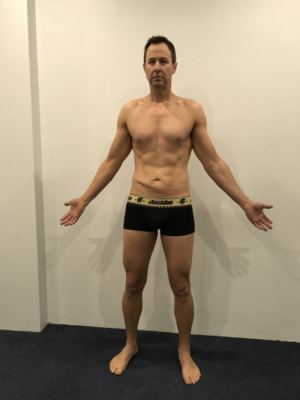 In October 2016, I had a frank meeting with Daniel Collins at the Kogarah Studio of Vision Personal Training.
Hitting the scales at 113KG I expressed my goals for the 9 week program to take off the weight I had gained with terrible eating/drinking habits. Also through excess and using the common mantra 'I'll just run/burnt it of tomorrow'. 'I've lost weight before, I'll do it again'. Tomorrow never came. (BTW- you can NOT out exercise a terrible diet). He explained losing the weight over the 9 weeks was a good plan but it wouldn't set me up for what life throws in the way of healthy living, as he knew I would go back to what I always did after the 9 weeks. This would be a long term and life changing decision.
We lost 14KG in the first 9 weeks. We then moved to a more sustainable nutrition plan and life strategy whereby I lost further weight, getting down to 95KG. Seeing new definition in my body we decided to incorporate more weights in the third 9 week plan and dropped a further 4KG. In April 2017 I wondered, what I would look like if I really took it serious again and concentrated on my nutrition. With Daniel's passion, empathy, knowledge, focus and dedication, we devised a new goal. The plan was just another 3KG.
We smashed that goal and got to 86.5kg in 9weeks.
That's right 27.5kg down.
This took 9 months, so it was NOT crash dieting. Nor was it HOURS and HOURS on the treadmill. It was a well thought out, in consultation eating plan and goals sessions.
My next goal is 82kg and 8% body Fat.
Kogarah Vision Personal Training has a fantastic team to put behind you. I could not have achieved my goals without the support of my amazing my wife, but also not without the extraordinary Daniel Collins.
Along with the other team member and clients, the environment fostered in the studio makes you feel included and important as soon as you walk through the door. There is no ego and no judgment. Just passionate people persistently helping individuals reach their goals.
Thank you, Daniel Collins, and the Kogarah team.
Kogarah Success Stories
Our holistic approach to emotions, education, eating and exercise has transformed thousands of people across Australia & New Zealand. Get inspired by the journeys of your latest clients.
Are you our next success story?
Give your goals the greenlight and join us. Book your free consult now.