Before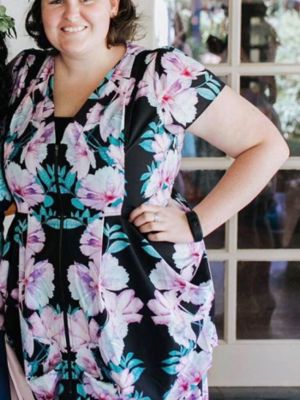 After
My life before Vision: For as long as I can remember I've always been the big girl. I have always struggled with my weight, was battling an eating disorder and was in denial of how big I was getting. I would eat anything and everything and not think about what was in it or how much I was having. Food was my "comfort", I hardly exercised, I was tired, grumpy and extremely unhappy all the time. I joined 2 different gyms to try and make a change and only saw little results but put it all back on because I didn't have support from others and lost motivation. At the beginning of 2018 I lost some weight by myself but I knew to keep it off I needed extra support. One of my friends had joined Vision and he was constantly bugging me to join Vision, I could see the amazing results he had achieved and thought why not try this out.
Joining Vision has changed my life massively. I've learnt so much a about food, exercise and most of all myself. My body is so much stronger than I thought. I've influenced others in my life to make changes in their life. I have grown stronger in my mind and body. I still have a long way to go but I have the tools, support and strength to achieve anything I put my mind to. Results I've achieved how do I feel now compared to before Vision: I've lost 10kilos, completed two 5k runs, Sutherland to Surf and tough mudder. I feel happier, healthier, lighter, and stronger in my body and my mind.
Vision is not like any other gym. It's a place where you feel like you're part of a family, you are surrounded by people who will push, guide and support you in achieving your goals. Vision don't just see you as another number, the trainers invest 100% in your life and goals and help you build a solid foundation for your everyday life.
Caringbah Success Stories
Our holistic approach to emotions, education, eating and exercise has transformed thousands of people across Australia & New Zealand. Get inspired by the journeys of your latest clients.
Are you our next success story?
Give your goals the greenlight and join us. Book your free consult now.