Before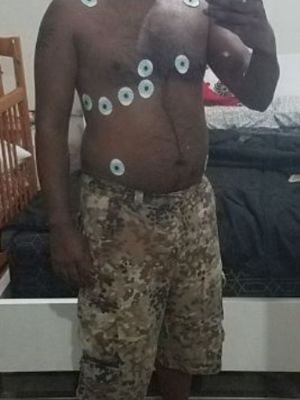 After
Overall I lost 14 Kilos and it only took me around 2 months! Exactly from Dec 8th till 19th Feb I also dropped 4 inches off my waist and went from 34 inches down to 30 inches!
There came a time in Dec 2017, if you see my before photo you will clearly understand what I am talking about, that was a scary time in my life. That's the time I decided to change my life.
At first I started eating just salads for about 2 weeks and I lost weight around 2.5 kilos but felt like missing my life. So, I decided to do something different and started searching on the internet and came across VISION Personal Training. I read almost all the success stories, those stories inspired me a lot, just within couple of days I joined VISION Macquarie Park. I made a strict schedule and a specific promise to myself that every morning and evening I would go to VISION and attend the group classes and follow their instructions what so ever. Thanks to Scott my PT and the rest of the VISION team and my fellow clients in the group class you all are great, friendly and very supportive without you all this wouldn't have happened.
During my 9 weeks the most challenging thing for me was keeping up with my strict schedule of diet and attending the classes each day no matter how busy my schedule was in the office or how bad the weather was outside. Sometimes I also had some discomfort in my knees and thighs which was a little difficult to deal with, but I pushed through it and never missed a single day until I achieved my goal!
I started to see results in about 2 weeks' time this increased my confidence level. Monday morning was my weigh in session if you lose more than a kilo you have an opportunity to ring the bell and all the PTs present at that time in the gym have to do 10 push-ups as an appreciation and I rang the bell almost 5 times, whenever I rang the bell I use to feel very proud.
It's been almost a months since I reached my weight loss goal and I have maintained my weight since then by exercising regularly. The main factor is to understand that your body needs daily exercise to help you stay fit and healthy and by working out you can get not only physically healthy but also mentally fit to increase your quality of life.
I only have one life and it's important to live it fit and healthy so I can live it to the fullest!
I have received great feedback from many people around me and they have become motivated from my transformation. Lots of people want to look and feel better and it feels amazing that I can help them with their own journey.
Don't lose hope! The main thing is to be aware of your daily progress and congratulate yourself on your achievements.
A BIG THANKS to VISION Macquarie Park Team (My PT-Scott, Blake, Michael, Shannon, Thomas, Cody and Rachel) you ppl are Rock Stars!
Macquarie Park Success Stories
Our holistic approach to emotions, education, eating and exercise has transformed thousands of people across Australia & New Zealand. Get inspired by the journeys of your latest clients.
Are you our next success story?
Give your goals the greenlight and join us. Book your free consult now.