Before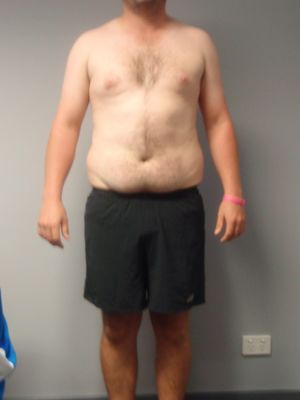 After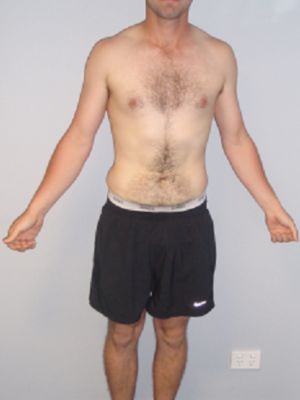 Tell us about your life before joining Vision?
In my life before Vision I was a lot heavier and lazier. My motivation for starting with Vision began when a close friend gave me a career wake up call. I had been a basketball referee for 6 years at that point and had every intention to pursue a career as a referee. My goal was to become an NBL ref. In my early 20's I had several bad habits set in… I stopped playing team sports, I lived on the premises of my day job (therefore very little incidental exercise), I would binge drink and eat far too much take out food. A close friend of mine who is an NBL referee told me that I would never progress from refereeing kids games unless I lost weight and could be fit enough to keep up with the high intensity of the mens games.
What results have you achieved at Vision?
Completing 2 Half Marathons, completing my first marathon in Tasmania & losing 20kgs.
What impact has Vision had on your life since achieving your amazing results?
As I mentioned the reason for me starting was to improve my chances in my career of becoming an NBL referee. This goal has definitely come to fruition, since starting at Vision I have since moved up two grades, I was a referee at the Gold medal under 21's national tournament and have the highest beep test score within my organisation. Losing over 20kgs has also given me far more confidence in my every day life. I am now not embarrassed to shop for new clothes. My lifestyle has completely changed and I now exercise because I love it, I am fortunate enough to now pass on the information and change my family's health as my brother and sisters all competed in their first fun run events.
What are some of the defining moments during your journey?
There have been several defining moments along my journey but two particularly stand out. The first one was when during my first half marathon, leading up to the event I had lost 12kgs and had trained for this for 3 months to confidently complete it, 9 days before the event I sprained my ankle at work. The day of the run came and I was still feeling some tender effects in my ankle but I decided that it wouldn't stop me. at the 15km mark I could feel some irritation and by the 16km mark I was limping. The defining moment for me was that the 'Old Paul' would have stopped and pulled out, instead the 'New Paul' looked up and persevered, just like all previous attempts at losing weight-"Old Paul" would have given up but with "New Paul" and this new lifestyle I made it through! I completed my first half marathon in under 2 hours. No amount of pain and discomfort could take that smile off my face.
The second defining moment was with my basketball refereeing career. I had started my health journey to progress my refereeing career and had been told I would not progress whilst being over weight an unfit. It did take a little bit of time for me to acknowledge this was a barrier but when I committed myself to chaining my eating and exercise habits everything started to change. By the end of that basketball season I had lost 20kgs and had become the fittest referee in my organisation. The change is my appearance and level of fitness translated into more confidence on the basketball court. The following season I had moved up to the next level of refereeing, something that I had not done in 3 years.
What advice would you give someone who is currently thinking about taking apositive step towards changing their health and fitness?
Just do it. You won't regret it. All you have to lose is the weight.
*Individual results vary based on agreed goals.
Hawthorn Success Stories
Our holistic approach to emotions, education, eating and exercise has transformed thousands of people across Australia & New Zealand. Get inspired by the journeys of your latest clients.
Are you our next success story?
Give your goals the greenlight and join us. Book your free consult now.