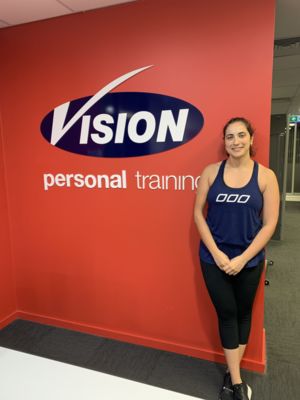 When I saw a picture of myself holding my niece a few years ago, I realised that I had hit rock bottom in terms of my health and fitness. I was the heaviest I had ever been and I didn't know how I had gotten to that point without really noticing. It was around this time that I saw a 9 week Vision package as part of a charity silent auction and engaged in a bidding war to make sure that it became mine.
Two and a half years on, I can honestly say it was one of the best decisions I have ever made! I have undergone a total transformation with Vision and I am not just talking about weight loss. I have a better understanding of food, what to eat and when to eat it. I have availed myself of the many opportunities for education by attending the seminars and shopping tours. I have discovered a love of training and am focussed on feeling strong, not just looking nice. Most of all, I have achieved things I never thought I could through persistence, hard work and the support of not only my trainer, but the whole Vision team and other Vision clients. I have learned to focus on moving forward and not to get bogged down in the setbacks, of which there have been a few. A couple of years ago, those setbacks would have been enough to completely derail my efforts and progress.
I still work with my trainer on setting both weight loss and fitness goals and am committed to achieving them with Vision.
Kogarah Success Stories
Our holistic approach to emotions, education, eating and exercise has transformed thousands of people across Australia & New Zealand. Get inspired by the journeys of your latest clients.
Are you our next success story?
Give your goals the greenlight and join us. Book your free consult now.