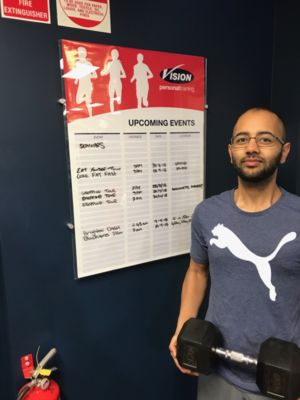 I had lost weight several times before, taking extreme measures like going on very low-calorie diets, but surely enough the weight came back shortly after. Realising that everything that I tried was only a band-aid solution, I was after a permanent solution, and knowledge in maintaining a lower weight and being able to change lifelong bad eating habits. While things got busier at work, my eating habits only got worse. I was desperate to find a solution.
So, I signed up with Vision Kogarah, and Matt Firth my trainer has been looking after me to help me achieve my goals. With his wealth of knowledge, we came up with a meal plan, tailor made for me which was still practical for me and my current situation. Looking back, it's amazing how little I knew about nutrition, and how much Matt has taught me. Now I'm confident about making healthy choices in any situation, and I no longer rely on junk food.
Matt also teaches me proper weight lifting technique, pushes me to the limit, helps me smash mental barriers, and is always mixing things up to keep it interesting.
After implementing the meal and exercise plans, I dropped 21kgs. I started at 88kgs and 8 months later I'm now 67kgs with 18% body fat. I can't even remember the last time I was this healthy. I'm still amazed every day at the increased level of energy I have, and the ease at which I can do my daily tasks. Investing a bit of time in a healthy lifestyle has really paid off. I'm so glad I joined Vision - time, energy and money well spent!
Thank you, Matt, for all your support and for guiding me to success. Thank you to the whole Vision Kogarah team, you guys have been very welcoming and caring, and create an awesome environment!
Kogarah Success Stories
Our holistic approach to emotions, education, eating and exercise has transformed thousands of people across Australia & New Zealand. Get inspired by the journeys of your latest clients.
Are you our next success story?
Give your goals the greenlight and join us. Book your free consult now.