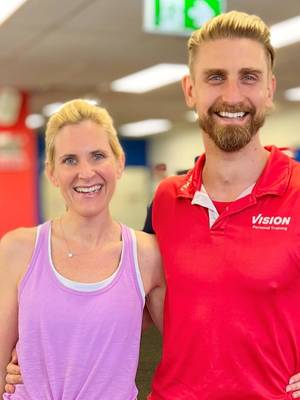 After many years of battling chronic health issues arising from numerous wrist and spinal surgeries, including spinal implants and titanium plates and screws in my dominant wrist, I had lost the feeling of being in control of my own body. As a result, the weight started to add up and not only was I dealing with a huge amount of chronic pain, but I felt terribly uncomfortable in my own body. I lost the confidence and ability to take control of how I was feeling both mentally and physically.

It was my 40th birthday in the July of 2018 and I remember thinking something has to change. I need to take back control of my health and not be so reliant on Doctors and medications and start putting in the effort myself to turn around what had become of my physical and mental health. I knew my chronic pain was something I would now have with me for the rest of my life and I had to find a way to learn to live with it.

So I made one of the best decisions of my life and picked up the phone to book a consultation at Vision St Ives with Christian. There was no question about what I needed in a PT and gym studio as I could not afford to injure myself. I knew I needed every exercise monitored to make sure I had the correct form and technique. I joined the Vision family in July of 2018 and have never looked back.

With the help of all the trainers past and present, the group training sessions and Christian, I was consistent with my training from day one and gave 100% effort. I put my all into the one-on-one training and group sessions with the knowledge that my trainer and group trainers were supervising every movement. My training sessions were personalised and totally focused on form, technique and incorporated strength and cardio training. In the first 9 months, I lost 10kgs and was feeling more and more like myself, finally comfortable again in my own skin.

The Group Training sessions were filled with lots of laughs, fun and as a bonus, very sociable while at the same time working up a sweat. I started feeling amazing after every class and never wanted to miss a group class or PT session.

Four and a bit years down the track, I realise the enormous value of exercising for mental health, strength and general fitness in order to cope with my chronic pain and I definitely learned how to use my body regardless to the best of its ability to get me to this point today where I can honestly say that I have learned to live in chronic pain and that would not have been achievable without the help of Vision St Ives.

I have continued the tough task of navigating my way through the pain of continual spinal surgery, emergency hysterectomy, surgically induced menopause, chronic nerve pain, and many complications and numerous trips to hospitals over the past 8 years. Regardless of all this, my mindset and attitude to training has remained at the forefront. I now know how to get through the tough times and help my body and mind fight all this with the benefits of continued exercise, better mental health and increased energy.

Vision has enabled me to always strive to try my best, to not dwell on the things I cannot change; rather focus on the things I can, but most importantly, to never give up. The trainer's support, encouragement and dedication to truly helping me get through recoveries and back on track after every setback has been immeasurable.

I believe the people you surround yourself with, who you have in your corner through the dark and the light, truly change your life. Vision is the reason I get myself into my gym gear five days a week, show up to the studio and give everything in the tank. To date I have now lost 20kgs.

Vision St Ives is a personal, fun, like-minded community and I can't imagine my life without it! I am thankful every day for Vision St Ives. It turned my life around and has given me all the tools to keep fighting for my health; to keep looking forwards; to have more energy and patience with my family. Thank you would never be enough.
St Ives Success Stories
Our holistic approach to emotions, education, eating and exercise has transformed thousands of people across Australia & New Zealand. Get inspired by the journeys of your latest clients.
Are you our next success story?
Give your goals the greenlight and join us. Book your free consult now.