Before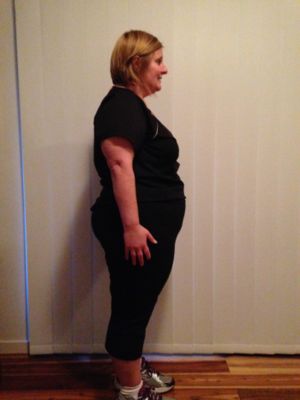 After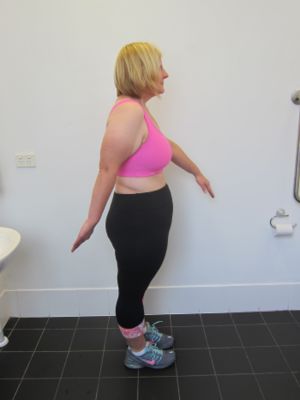 In January 2013, my health took a turn for the worse, I started having pain in my joints, my whole left side of my body had constant pins and needles, and I was fatigued and could barely get out of bed each day. After seeing my GP and being referred on to two specialist and numerous tests, Multiple Sclerosis was mentioned, I was very scared and very worried, and it was the scariest time of my life.  I went for a MRI and I was cleared of MS, which was a relief, but I was still no closer to a diagnoses. After a few more test's I was diagnosed with Lupus and Sjogren's disease, two auto immune illnesses. So I now had a name for it.
It's now September 2013 and my weight is increasing, as I can't exercise, I'm on numerous medication, to help the ease the symptoms, I'm working 3 to 4 days a week, as I can't work the 5 day's that I'm suppose too, and I'm on high blood pressure medication. My specialist keeps telling me to walk, exercise and eat good foods; it's going in one ear and out the other.
At this stage, I'm barley making it out of bed each day, and I'm eating everything and anything I want, trying to cheer myself up, not knowing that I'm actually making my illness worse. In November, I started to talk to my husband about giving up work, as I just couldn't cope with it. All I was doing was working, going home, sleeping and repeat, I had no life. It was so depressing, but at the back on my mind, something kept pushing through, saying you can beat this, you can beat this.
My husband had been training with Vision Personal Trainingfor about a year, and he was getting some amazing results and he was feeling fantastic, I finally started listening and watching what he was eating, I read the book that was provided to him, and started doing some research into foods that help auto immune illnesses. In early December, I contacted Matt Firth, at Vision Personal Training Kogarah and decided that January 2014 was the time to get my life back!
On 7  January 2014 I changed my life! I remember being so scared to walk into Vision, I couldn't sleep the night before, but I knew I had to do it. I walked in and was greeted by a big smile and I've never looked back. I topped the scales at 110kg's. This day was the change of my life forever.
My main aim for 2014 was to come off all my medications, lose weight and get my life back. I was 110% committed to this, and I still am. Within three months of training and clean eating, I came off my blood pressure medication, woo hoo!! Yes, one goal done. Now I was working towards coming off my auto immune medication. The support from the team at Vision was amazing, I start my own group on facebook to keep me accountable and share my story, and it all helped, and still does.
Then the magical day come, in October 2014, my specialist took me off all my medication! He clapped and said to me, if only all my patients were like you. I was so, so, so happy, I can't put it into words, I'm like YES! I DID IT. At this stage I had lost around 26kg's.
I'm now happy to say that I've lost a total of 29.4kg's and I'm pain free, and my health has returned, I'm 43 years old and I feel the fittest and healthiest that I have in decades. I've challenged myself along the way, I competed in the City 2 Surf this year, and I also went into the two Weight Loss Challenges, this year, just to keep me going to get me closer to my weight loss goal. My aim is to lose 30kg's by 19/12/14, with another 10-15kg's next year.
The Vision Personal Training Program has changed my life. I had no life, to living life to the fullest.
Kogarah Success Stories
Our holistic approach to emotions, education, eating and exercise has transformed thousands of people across Australia & New Zealand. Get inspired by the journeys of your latest clients.
Are you our next success story?
Give your goals the greenlight and join us. Book your free consult now.