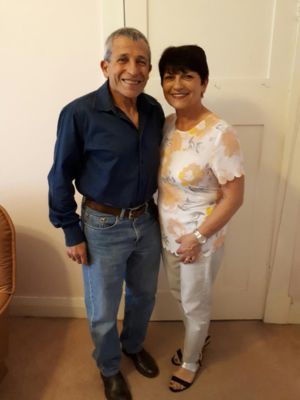 NICK
Since my retirement a couple of years ago, and even before that, I had started expanding... and I don't mean around my chest! Over the course of a number of years I had joined four different gyms with no real results. Of course, these gyms had all the right equipment, but I was not comfortable in the atmosphere of these.
Mena had heard good comments about Vision and persisted in me trying it out. I finally took the plunge and joined Vision Blakehurst in July 2016. My first week or two felt a bit strange, but in no time at all I was getting right into it, participating in more group sessions each week and feeling like a valued member of this community.
I just wanted to become fit and get rid of the tyre around my stomach by losing 3-4 kgs. I have now actually lost around 10 kilograms since I joined and have become as fit as I was in my youth. I've worked hard at my goals and achieved great results. I have reached levels I had never dreamt of at my age, and the bar continues to rise.
MENA
I joined Vision at the end of January 2017 for two reasons. Firstly, because I was very unfit, a little (I thought) overweight and my blood sugar levels were continuously high. Secondly? I was sick of watching Nick get up every morning religiously to attend classes while I got ready for work and then again attend evening classes while I sat home tired after working all day. And to be more honest, although I was the one that encouraged him to join Vision, I also became resentful of his enthusiasm and commitment to this program, so I thought if you can't beat them join them!
My initial goal was to increase my fitness and lose 2-3 kilograms in the process. I was honestly sceptical if I could manage this, not because I did not think the Vision system worked but because I didn't believe I had the will power and the resilience to stick to the program.
Fast forward to just over 9 months later, and not only have I become the fittest I have ever been, I have lost over 7kgs.
I can't thank my trainer enough for pushing me beyond my comfort zone and achieving results I could only dream about.
MENA AND NICK
The best thing about this is that as a couple we now motivate each other as we attend as many group sessions as we can together. We have learnt a great deal about nutrition and when to eat what in relation to our individual needs and we continue to learn via our trainers and by attending seminars. We now follow a much healthier lifestyle and only indulge at the occasional social event.
Additionally, we both entered and completed the 5kms run in the Brighton Dash, and the 10kms Blackmores Bridge Run, in the latter achieving times of 67 and 77 minutes respectively. We are still pinching ourselves that we have achieved these milestones at the ages of 71 and 63. The only time before this that we had entered such an event was the city to Surf 25 years ago....and we only walked that!
It's actually fun to attend the group sessions as there is always laughter along with the pain, and of course you always feel great afterwards. Shane and all the Vision Blakehurst team, as well as the other studio members, are a great bunch of people. We have made new friends and we look forward to our daily visits, the seminars and the social gatherings which are so much fun.
Blakehurst Success Stories
Our holistic approach to emotions, education, eating and exercise has transformed thousands of people across Australia & New Zealand. Get inspired by the journeys of your latest clients.
Are you our next success story?
Give your goals the greenlight and join us. Book your free consult now.