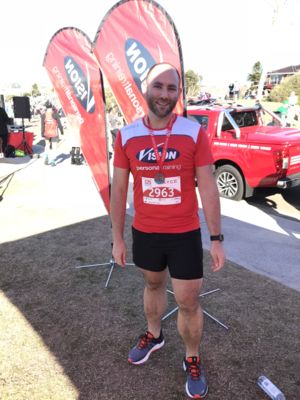 I started my journey with Vision Personal Training Blakehurst in May of 2017. I had always been overweight, for as long as I can remember, in fact I can't ever remember a time in my life where my weight wasn't at the forefront of my mind and worries. Over the years my weight and desire to get fit would fluctuate, constantly. It was frustrating and disheartening to say the least. I'd make progress and just as quick as I'd lose a few kilos, I'd be back to square one and I couldn't figure out why. It was just over 3 years ago now that I started on my latest journey and here I am over 65kgs lighter and in the best shape of my life.
The secret I hear you ask? Well there isn't one, sorry to disappoint. However, what I've learned along the way is that the key ingredients, or tools for success are a supportive network, a clear mind, nutritional education and support, a willingness to challenge yourself and allow yourself to be challenged in a safe environment, consistency, small steps and of course an alarm, mine seems to be stuck on 4.45am! It's the combination of these things that all together, has allowed me to achieve my goals.
Over the course of the last 3 years, there have been lots of ups and downs. After a about 2 years I frustratingly hit a plateau and a close friend suggested I give Vision a try. I knew I needed to try something different, and Vision Personal Training Blakehurst was where I headed. Over the past 14 months with the team at Vision Blakehurst I have transformed, not only in terms of physical appearance but in my mental clarity, energy levels, stamina, knowledge and in my approach to life.
I can't express enough my gratitude towards the team at Vision Personal Training Blakehurst, especially my trainer Drew Denford. Drew's constant support, encouragement and dedication to my goals were the connecting blocks for me. Becoming part of the Vision community has been fulfilling and rewarding. The team at Vision Blakehurst have provided me with the tools I need to succeed long term through goal sessions, group fitness classes, seminars, shopping tours, challenges and most of all, by empowering me.
Blakehurst Success Stories
Our holistic approach to emotions, education, eating and exercise has transformed thousands of people across Australia & New Zealand. Get inspired by the journeys of your latest clients.
Are you our next success story?
Give your goals the greenlight and join us. Book your free consult now.