Before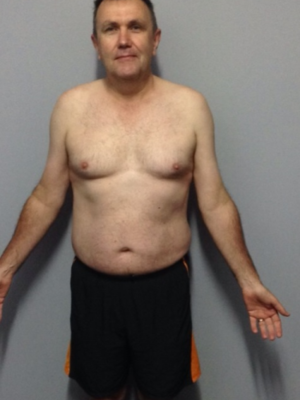 After
Michael is a busy husband and father of two who has achieved more than he ever expected! We've asked him to give us a quick insight into what he's achieved so far and how it's impacted his life:
1. What was the state of your health and fitness when you started and what affect was this having on your life?
Prior to starting at Vision Drummoyne I had experienced a few medical issues, which had required hospitalization. These issues on top of some heavy work pressure resulted in me putting on about 20kg. I wasn't very happy with how I felt or looked and I had basically lost confidence in my ability to drop the weight and get back to a reasonable level of fitness. I decided that this was not going to be my story (give up on exercise), so I decided to join Vision Personal Training Drummoyne to get me back on the proverbial 'Horse'.
2. What did you find was the most useful tool at Vision?
Without a doubt - the Personal Trainers! There is no question! There are no stupid questions. Whether its related to your food intake, food diary or exercise questions. They are extremely knowledgeable and should they not know something it will be followed up. My other favourite is the iPhone application and accessing your food diary. It allows you to check up on your macros and should you have to deviate from your food plan you can always make informed choices.
3. What impact has your new health and fitness had on your new life?
Previously I would always find an excuse why I couldn't do something or as I said above I was worried that if I physically could not even take part in an event. Well now I feel there is nothing I can't do. I never saw myself running a half marathon (2 complete @ sub 2 hours), paddle down the Hawkesbury (completed 111km in 14 hours in The Hawkesbury Classic 2015) and my latest achievement, walking Oxfam 2016 non-stop, which is 100km. There are so many new experiences now open to me and it's very exciting!
4. If you were to recommend Vision Personal Training Drummoyne to your friends, what would you say?
There is a great team at Vision Personal Training Drummoyne whilst still having your own Personal Trainer to look after you. The whole Vision team take an active interest in your progress and achievements. Also the support and encouragement you receive from fellow clients is also great.
Congratulations Michael, we can't wait to see what you achieve next!
Drummoyne Success Stories
Our holistic approach to emotions, education, eating and exercise has transformed thousands of people across Australia & New Zealand. Get inspired by the journeys of your latest clients.
Are you our next success story?
Give your goals the greenlight and join us. Book your free consult now.