Before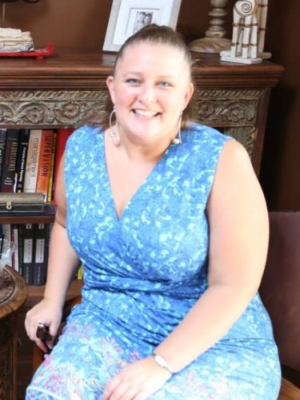 After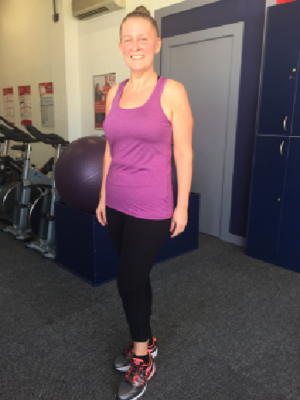 I have always struggled with my weight. I went on diets and lost weight only to eventually put it back on again and more. My weight limited my salsa dancing, which is my passion. I was always stressed about costumes and being able to do tricks and when I broke my ankle and couldn't walk for several months or dance for many more, my weight ballooned out to the most it has ever been. Eventually my health became an issue and I made a few attempts to lose weight on my own but couldn't stay on track and regained the weight. I suffered from a lack of motivation that extended into many areas of my life, until my sister-in-law, Lisa, who had been coming to Vision Personal Training Blakehurst for a couple of months with great results, dragged me along to a Healthy Eating Seminar. She made me get out of bed! It was on this day that I made the decision that I could lose weight with Vision's help.
I remember being quite nervous the first time I came in, but everyone was so friendly that I soon felt quite at home walking through those doors. I was never someone that liked to exercise and always said "I don't do running", but Vision has me exercising daily, and on the day I wrote this I ran 4.5km in 27 minutes! I never would have thought I was capable of doing that! I don't mind going to the Studio, because Vision Blakehurst is a place where everyone knows your name and is so encouraging and supportive. A place where other clients and the trainers aren't just other people at a gym, but people who become good friends that understand your struggles and inspire you to stay on track towards your goals. Having a trainer to keep me accountable helps immeasurably.
With my weight loss came a return of faster reflexes and speed in my dancing. My confidence in social situations has grown and shopping has become fun again!
I have learnt a lot about healthy eating and exercise and now have the knowledge, tools and support system to allow me to stay in control of my weight thanks to Vision Personal Training. I have started another friend on their Vision journey, with great results, and I can honestly say that starting at Vision Personal Training was the best decision I could have made.
Blakehurst Success Stories
Our holistic approach to emotions, education, eating and exercise has transformed thousands of people across Australia & New Zealand. Get inspired by the journeys of your latest clients.
Are you our next success story?
Give your goals the greenlight and join us. Book your free consult now.