Before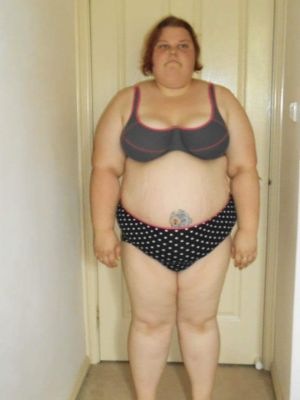 After
I started my weight loss journey in 2013, I was at 137kgs, uncomfortable, run down but still managed to play sports, like softball and netball and I started up running. However, no matter what I did exercise wise, I never lost any weight.
After being in a dark place, I decided upon having weight loss surgery (Gastric Sleeve) and lost 40kgs that way. That loss was short lived and 3 years later, I had ballooned back up to 110kgs.
May 24 2017 is a day that is forever etched into my head. I was talking to my mum on our way to work about going to check out the Penrith Vision Studio during lunch that day, when I ran into Melissa Bardov from the Penrith Vision Studio. It was the sign that I needed. I made my appointment the next day with Mel and the rest they say is history!
My Vision journey has been full of ups and downs (mostly ups though!) and I have learnt so much in the last 12 months. I even shaved my head after I hit the 50kg loss mark and raised money for Beyondblue and told a little bit of my story via Penrith Vision Studio's facebook page. This was my version of starting a fresh new chapter of my life! I've even kept the shaved head!
Vision really does encompass the 4 'E's - Emotions, Education, Eating and Exercise into their program. I thought I wouldn't learn anything that I didn't already know, but imagine my surprise when I learnt so much more than what I thought I knew! The amount of information you can google nowadays is crazy but Vision Personal Trainers took the time to explain everything to me, allowed me to ask crazy questions and if they didn't know an answer they would research it and come back to me (plus being able to have someone tell me in simple terms really helped!)
I have lost a total of 26kgs with Vision and a total of 52kgs throughout my entire weight loss journey. As I have excess skin, my trainer advised to go on a muscle gain program which means that my weight is going back up - not my fat mass, its lean muscle mass! Seeing the muscles in my arms and thighs build up and my skin getting firmer around my problem areas is exciting.
My fitness journey will never finish as I am now studying to become a Personal Trainer and my long-term goal is to own my own Vision Studio and help others with their weight loss/fitness journey.
There is no way that I would have been able to do this without Vision's support. I'm much happier, confident and back into running (I may be slow but I am still a runner!). Not only did Vision help me, they also helped me change my Daughter's outlook on life. Her eating and exercise habits are much better and we both enjoy finding new things (food and exercise) to try out! She can't wait for me to become a Personal Trainer so she can get free sessions with me!!!
Penrith Success Stories
Our holistic approach to emotions, education, eating and exercise has transformed thousands of people across Australia & New Zealand. Get inspired by the journeys of your latest clients.
Are you our next success story?
Give your goals the greenlight and join us. Book your free consult now.