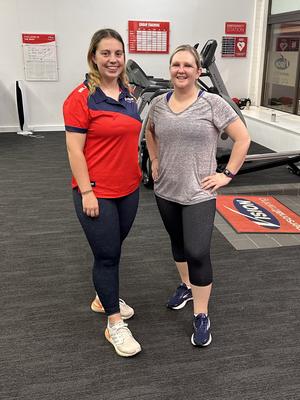 Laura began at Vision a year ago wanting to lose 15kgs, increase aerobic fitness, increase energy levels as well as improve her sleeping habits and patterns. She had many different reasons behind these goals including: increasing well-being, wanting to be fit enough to handle her travels as she loves hiking and being able to complete climbs at great altitudes. She wanted to increase her energy levels as she was feeling exhausted at work and was often lacking motivation to get through the day and exercise.

When beginning her training at Vision, she had to balance working a time demanding job which was also emotionally and physically draining so showing up to training some days was a challenge in itself no matter how much she enjoyed it. When you are as determined as Laura is, a challenge like that does not get in the way of an important goal. Laura has shown amazing dedication and commitment to her goal and has since achieved a massive milestone in her training. Laura has lost 10kg and is on the way to achieving her initial 15kg fat loss goal. This can be attributed to Laura's discipline with her training and tracking. She consistently shows up to multiple group training session per week making sure to put in 100% in every session. She rarely misses her scheduled PT sessions and when she does she always backs them up with double the effort and time. Tracking can always be a challenge when beginning but Laura has mastered this and often see her tracking 7 days a week and it is reflected in her consistent weight loss achievement.

Laura also set an initial goal of increasing her aerobic endurance. In the past 6 months Laura has really begun to enjoy her running. She has completed a 7km running event and is now training for a 10km event. Week by week, Laura achieves new running personal bests. Most recently, in only a duration of a week, Laura ran 3.16km in 24 minutes, she then smashed it out of the park with a 4km run in 28 minutes. Her dedication to her aerobic training in group classes as well as sticking to her training plan has definitely seen her continuously achieve results with her aerobic endurance.

Laura has since increased her energy levels, initially starting at a 3/10 on a good day, she is now sitting at an 8/10 on most days and feels energised and ready to take on the day. This can be attributed to her commitment to training as well as getting her sleep schedule in track. Every day comes with new challenges and barriers to overcome but Laura should be commended for taking accountability for any setbacks and challenges. This ownership allows her to understand what she can improve on to come back 10 times stronger.

Laura has achieved so much in her short time at Vision and we cannot wait to see her smash her goals and keep improving on all aspects of her training and nutrition.
Penrith Success Stories
Our holistic approach to emotions, education, eating and exercise has transformed thousands of people across Australia & New Zealand. Get inspired by the journeys of your latest clients.
Are you our next success story?
Give your goals the greenlight and join us. Book your free consult now.