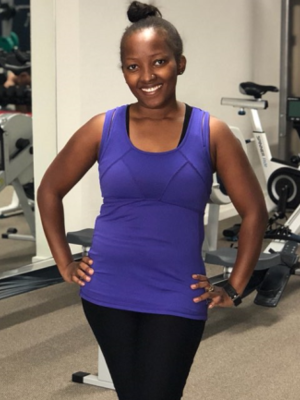 I am so happy to be a member of the Vision family. It all started after having my second baby where my body morphed. I had rolls on my stomach that I'd never had before.
To fight back the weight gain, I tried over 20 diet programs, combining with the gym but I had no idea what machines to use because at the end of the day, my whole body would hurt and I would end up feeling so hungry because of the diets which prompted me to crave junk food. I just thought, so long as I ran on the treadmill for 20mins and sweat a little, that would do, but little did I know, everything I was doing was so wrong since nothing seemed to work even after pushing myself that hard.
So that is when I discovered Vision Personal Training Blackburn. I remember vividly walking in the studio to meet Kimberley, who assured me that I would achieve my weight loss goals. I had doubts of course which was natural. I mean, I couldn't even do 1 push up, or even do a 2 sec plank. Those early days were really tough but thanks to Kimberley and Chris, for pushing me and assisting me with my nutrition and also believing in me, I can now do things I never could have imagined I would do.
The shopping tours and the nutrition seminars that Vision offer also helped me achieve my goals and I was really drawn to the sense of community they offered too. I like to work hard and Kimberley and Chris made me feel like I was on a team working alongside other people and encouraging one another.
As my body grew stronger, so did my self-confidence. I felt like I could be a role model for other women who felt stuck and wanted encouragement. I started to feel like ''if I can do this, I can do anything."
I realized this was the best decision I ever made. They have also shown me that lifting heavy weights will only make me lean and strong not bulky.
Thanks to Vision Personal Training, I have come to learn that being fit is a lifestyle, not just an item to be ticked off a to-do list, and everything I achieve or overcome empowers me to achieve or overcome any challenges I face in my everyday life.
Blackburn Success Stories
Our holistic approach to emotions, education, eating and exercise has transformed thousands of people across Australia & New Zealand. Get inspired by the journeys of your latest clients.
Are you our next success story?
Give your goals the greenlight and join us. Book your free consult now.