Before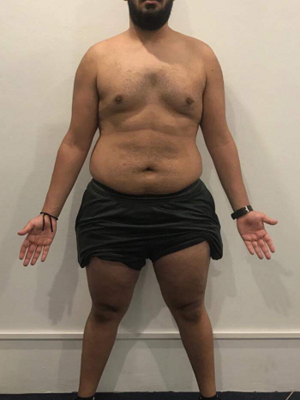 After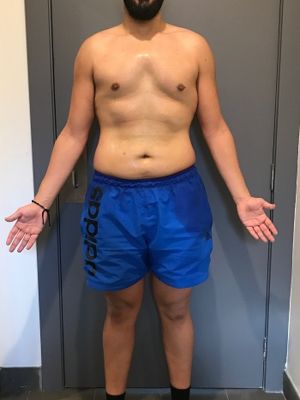 Jean-Pierre Karam testimonial:
Throughout my life, I searched for different ways to help me lose weight. I had never been the skinny kid or the fit kid in school, or in any given situation. All my life I was just a kid who had a real passion for food however this passion was far outweighed by the passion I had for physical activity and exercise. I have been called names before and even some nights been very upset about my weight and the way I looked and nothing really changed. I tried so many things to make me lose weight because to be quite honest it wasn't the way I wanted to look and feel for the rest of my life.
Fast track to October 2016 and I had been informed that I had to undergo a serious operation which meant I had to cease all forms of physical activity, even walking, for the following 5 months. As a result, I became very depressed as I knew it was going to be so long before I could do the one thing I truly loved. I became to let go of my eating and became a couch potato that gained a whole 25 kilograms, and weighed in at a whopping 130 kilograms, and if I was upset about my weight before this was a whole new level. I then wanted to fulfil my dreams of changing people's lives through improving their health, so I set out to complete my certificate III and IV in fitness. Towards the end of completing the course, I decided that it was time for change; I was emotionally ready to take on any challenge that faced me and overcome any adversity. So, I set out to lose the 25 kilograms gained and an extra 5 to get me down to 100 kilograms. I proceeded to lose 15 of those kilograms on my own but then began to reach a plateau. Then I found Vision.
I met the director, Shane at Vision Personal Training Blakehurst and started to talk about what Vision is all about and instantly I loved it, we agreed to start training right away, I started my initial 9 weeks on the 12th of May 2017, with the goal of losing 15 kilograms, and the excitement was real. Vision taught me so much more than I could possibly have known, from exercising the right way to managing my nutrition and eating the right way in order to optimise success. I was so happy with all the information I was receiving and overwhelmed in a good way about how much more knowledgeable I was becoming. 9 weeks later I not only hit the goal, I smashed it. I currently weigh in at 98.8 kilograms, the lightest I've weighed in years!
As well as achieving my goal, I also achieved my dream of changing people's lives through improving their health, as I now work at Vision Personal Training Blakehurst. I really believe Vision changed my life for the better and made me enjoy life a lot more than I ever could've imagined, I will undoubtedly continue to improve with Vision. Vision allowed me to immerse myself in not only a Studio setting but a community setting where everyone in the studio has a bright smile on their face as soon as they walk through the front door because they knew that this was like home. I have created everlasting friends here whilst making a better version of myself.
I never could've achieved my goal without all the support, from my family and friends to my workmates and everyone at Vision Blakehurst. I really couldn't have done it without them; I will never forget what Vision Blakehurst has done for me, an amazing team of Trainers, an amazing community and an amazing network. I would recommend everyone to Vision Blakehurst as they really do change people's lives.
Blakehurst Success Stories
Our holistic approach to emotions, education, eating and exercise has transformed thousands of people across Australia & New Zealand. Get inspired by the journeys of your latest clients.
Are you our next success story?
Give your goals the greenlight and join us. Book your free consult now.