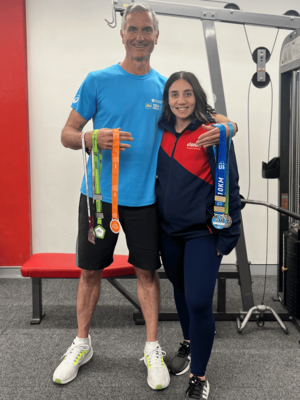 I've been with Vision for 9.5 years. At the start, all 112kgs of me, was definitely NOT a runner! I am now, and my weight ranges between 81.5 - 84kgs (depending if it's pre or post race day or holidays ).

Since 2015, when I went close to 45 mins for a 10km running event, I set a goal to beat that time. It's been a tumultuous journey of many significant ups and downs, experiencing a multitude of injuries (some deep lows). However, I never lost sight of my goal!

It took until October 2022 (7 years) for me to finally crack that goal time and I've done it four (4) times since. In my last 10km event I achieved 41.48 (a once, impossible dream time for me). Totally unbelievable and surreal.

What a difference a year can make? So many running achievements in the past 12 months. It feels deeply satisfying, to finally be rewarded.

Most importantly, I was able to show my kids, what rewards years of focus, dedication and persistence can bring in any area of their lives.

What drives me? I want to show that age does not need to be a barrier to achieving our dreams. Like a good wine, I want to improve with age!

So I keep asking myself "what's possible?" Recently, an awesome running mate asked me, "Why is it you think you are having these great results now, after trying to get them for so long?"
I answered
I know releasing the weight is a big part through disciplined eating (MyVision App).
Better targeted and more focused training.
Staying healthy and relatively injury free.
Learning 80/20 rule, run slower to run faster.
Staying goal oriented and focused, no matter what
Most importantly, having a team of beautiful people around to support me in achieving my goals 🔥🔥 (i.e. my wonderful family, my awesome Vision trainers and friends (past and present), my Insightful physio and naturopath. I could not have done it without them.
All have significantly contributed to my achievements! I'm so thankful and grateful to God that I've been granted the enjoyment & freedom of running.

A special thank you and appreciation to my wonderful trainer, Stacey, for her incredible support andfor taking an active interest in my achievements. Can't wait to see "What's Possible" in the future!
Baulkham Hills Success Stories
Our holistic approach to emotions, education, eating and exercise has transformed thousands of people across Australia & New Zealand. Get inspired by the journeys of your latest clients.
Are you our next success story?
Give your goals the greenlight and join us. Book your free consult now.