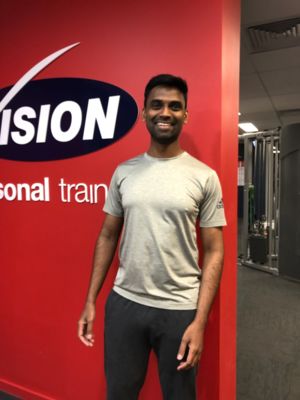 Long story short, 10kg muscle gain from 58.2kg to 68.2kg in 8 months. Yes, you read it right, its weight gain.
Well, to start with I had a couple of surgeries in the past 8 years and recent one being in June 2017. I had been always skinny my whole life, struggling to put on weight and with my crohn's it made things worse. However last September when I was sorting out my surgery bills with Bupa, I came across a Vision advertisement and I thought let's give it a try for a transformation at 37 years.
I met Daniel Collins and had a frank discussion regarding my goals and health issues. He had put me with my Personal Trainer Jas Sambhi, who worked out a diet plan, exercise routines and the way she made me progress over the course of 7 months is amazing and fantastic. It all started as baby steps, she has patience and is very encouraging. I still couldn't believe that I can manage a 160kg leg press today where my journey started with just 40 kilos. Goal sessions proved really important for me, they confirm your progress and give you that motivation and self-confidence.
The results were not over night, I had to always stick to my macros and be religious about it. After all those efforts the muscle gain I could see is 300-400 grams/week. There are weeks with no gain and some weeks there is a drop as well. I used to feel down about myself, but the way Jas used to motivate me is awesome. I couldn't have achieved this without the support and encouragement from my wife.
During the course of time I realized and started to believe in 4 pillars. Always stick to your nutrition, never skip workouts, be consistent, listen to your trainer… You will get there, weight gain or loss.
Huge Thanks to Jas Sambhi and the whole Vision team at Kogarah. I still have a long way to go, with the help of Jas I can see myself there.
Kogarah Success Stories
Our holistic approach to emotions, education, eating and exercise has transformed thousands of people across Australia & New Zealand. Get inspired by the journeys of your latest clients.
Are you our next success story?
Give your goals the greenlight and join us. Book your free consult now.