Before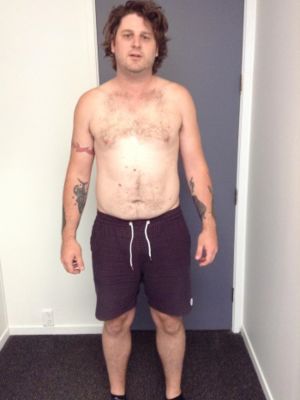 After
What made you join Vision Personal Training Training?
Concern for my physical health in the lead up to becoming a dad for the first time. I did not want to be a fat lazy Dad that sat on the couch watching sports and drinking beer. I wanted to be fit and healthy and change my lifestyle in order to make the step into fatherhood easier. I wanted to have the energy to be able to look after my partner and new baby!
I also wanted to be able to maintain a healthy lifestyle and have energy to grow and keep up with my child as she grows. Just basically be the most awesome Dad and partner ever.
I also wanted to be more focused on my radio job. I feel that the 9 week challenge has not only changed my physical health but mental health aswell. Im happier as a person and feel a lot sharper.
What did you enjoy about training in the Vision Ponsonby Studio?
I love the one on one interaction with the Trainers and having the whole studio to ourselves to focus on our session.
Vision Personal Training Ponsonby is perfectly placed on Ponsonby Rd with a great view of the street, there is always something going on!
Great sound system too, even though the music selection can sometimes be a bit questionable haha
What relationships were you able to develop with the team and other members?
Vision has a great team of motivated trainers and I love coming in and seeing them. Always up for a bit of a laugh, makes it a fun place to train. But they also care about what's happening in my life and ask about what's going on, how the baby is, how my partner is. Its awesome!
Everyone has their own unique personality so it's been great getting to interact with them. Other members seem just as happy and just as motivated as I am. Must be the awesome trainers doing a great job getting us the results we desire.
How was support with nutrition useful in your health and fitness journey?

Support has been amazing. It's hard in the first 9 weeks and can be tough to stay on track at times but the Vision website has great info on meals and videos for various different stages I went through.
Lena was also an amazing trainer to talk to. She is very understanding and considerate and always had advice that helped me understand how certain parts of the program worked and how it might be affecting me and how I can fix it.
What challenges have you faced on your journey ? How have you overcome them?
Biggest challenge was obviously the "9 week challenge" that got me started on my healthy lifestyle journey and I feel it was an essential part of my development in my eating habits and training commitment.
Becoming a dad and also staying on the program was a huge challenge. But the support I had from family at home helped me keep on track especially when it came to meals.
Being a Radio host / DJ means I have a lot of temptation on a daily basis (free food, junk food, free alcohol etc) My determination to change my lifestyle also helped me say no to all the bad things that would put me off track of my goals. Also the commitment I made to myself and my trainers at Vision, I couldn't let my friends at Vision down. No way!
Sticking with the program and keeping up with the routine, turning up to training sessions no matter how tired or unmotivated I was also helped in the long run. Not giving up! But whenever I felt like giving up the team at Vision and my partner at home were always there to motivate me. Its a great feeling to know other people care about your health.
What results have you achieved so far?
Lost 10kg in the first 9 weeks and 20cm overall. My back problems (that I had for years) have all but gone as my core is getting stronger and Im physically able to do more day to day things plus play sports. My other goal was to be able to play basketball again which I started doing in my 7th week at Vision.
Future goals are to lose another 5kg plus maintain healthy eating habits and get stronger and fitter! I also would like to motivate others to do the same. I feel this program has given me more benefits than they actually advertise. AMAZING!
Ponsonby Success Stories
Our holistic approach to emotions, education, eating and exercise has transformed thousands of people across Australia & New Zealand. Get inspired by the journeys of your latest clients.
Are you our next success story?
Give your goals the greenlight and join us. Book your free consult now.