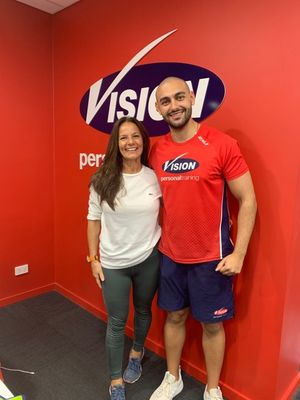 I knew I had to do something more than walk to the park when I became 10kg overweight!
So I googled Personal Trainer online and Vision Personal Training came up as one of the top searchers and lucky me there was a branch so close to home - I thought this was meant to be and joined in August 2018 and have not regretted a moment.
I did not want to be on a diet - I wanted to change my food choices to a be healthier long term- I did not want to lose the weight too quickly; my aim was to lose at least 1 kilogram a month and most importantly to maintain what I lose.
Phil has been an amazing Trainer even a shoulder to cry on the first time I pulled my back and was out of action for weeks - just as I was all focused and committed my back gave in. I felt very frustrated and with Phil's continuous support I managed to get back into it and not give up. During my time off from training I focused on my portion control eating, I used the knowledge of what I had learnt about nutrition at Vision and this helped me tremendously to stay on track with my weight loss. My focus has been to eat healthy Mon-Fri and on weekends I would go with the flow this way I never felt any cravings and it never caused me to binge eat.
It has not been an easy journey but exactly what I needed. I continue to enjoy the group classes (especially when I hear it'sstretch time) PLUS I always look forward to my PT session with Phil who is always positive, dedicated and challenges me in all my sessions which keeps me going from strength to strength.
I feel the fittest and healthiest in a very long time and I couldn't have done it without Phil and The Vision Team! Thank you!
Kogarah Success Stories
Our holistic approach to emotions, education, eating and exercise has transformed thousands of people across Australia & New Zealand. Get inspired by the journeys of your latest clients.
Are you our next success story?
Give your goals the greenlight and join us. Book your free consult now.