Before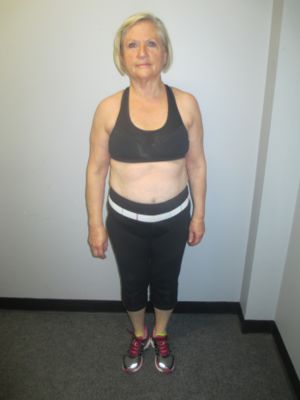 After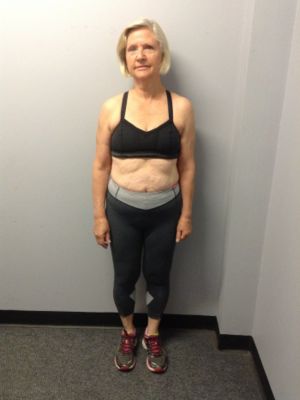 Christine was Vision Personal Training Mona Vale's 9 Week Weight Loss Challenge winner in the female category in 2014. Christine lost a total of 6.1kg or 9.81% of her starting body weight. This resulted in a loss of 23.5cm from her chest, waist and hips. Well done Christine!
This is what Christine said about her journey with us here at Vision Mona Vale:
The dictionary meanings of the word Vision are 'Dream'; 'Image'; 'Visualisation'; 'Revelation', and I cannot think of a more apt name for a Personal Training Programme experience that certainly delivers over and over again!
My journey with Vision initially began at a time when my husband and I were planning a 5 week trip overseas and I was fearful that I would not be fit enough to withstand the pre-planned busy weeks ahead in exploring parts of Europe. I achieved my goal of weight loss and fitness improvement for the trip (plus more) and just recently signed-up for the 9 week challenge as I was needing to re-focus and set new goals given recent work and family related commitments had side-tracked my usual training regime and also taken my attention away from the all- important food tracking.
Now this Weight Loss Challenge is complete and I have achieved my 9 week goal, I feel motivated to continue with planning my next set of goals. I am fitter and stronger and cannot speak highly enough of the Vision Mona Vale team of Trainers, their professionalism, dedication, attention to detail and expert knowledge is evident at all times and their enthusiasm directed towards the encouragement of clients to come along to group exercise classes is reassuring and makes one feel especially heartened and part of the Vision family. A special mention also must go to my Trainer for his support, endless nutrition tips and training expertise to help me lose those extra kilos.
Vision - my 'dream' has become a reality.
Vision - my 'Self-Image' is now improved
Vision - no longer do I need to 'visualise' how my clothes should look.
Vision - my weight loss is now 'Revealed '!
I am again back on track to achieving the dream which was put before me at the start of my Vision Personal Training experience.
Mona Vale Success Stories
Our holistic approach to emotions, education, eating and exercise has transformed thousands of people across Australia & New Zealand. Get inspired by the journeys of your latest clients.
Are you our next success story?
Give your goals the greenlight and join us. Book your free consult now.