Before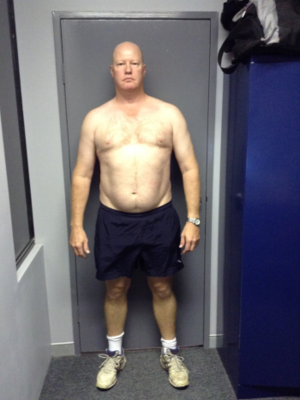 After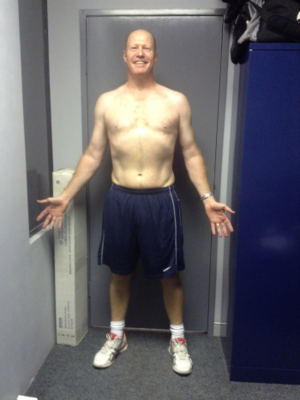 My later adult weight has revolved around various major events. I have walked the Kokoda Track, done a Half Ironman Triathlon, ridden a 1,000km charity bike ride and generally find that I get fit for these events for me to then go back to my bad ways and blow out to a large weight.
This had been my issue lately and I knew I needed some fairly sever motivation to get me to a reasonable weight again where I was happy. Anything around 110 - 112kgs I would have been OK with.
After visiting the Vision Personal Training Studio, on advice from my wife I picked Kimberley to be my trainer. I felt that a woman would push me just that little bit harder and boy was I right! Kimberley proceeded to explain to me what I should and should not be eating, along with exercise plans to stick to and a few home truths about what the alcohol I was consuming was doing to me.
After a few weeks, and some slow weight loss we changed tack slightly and Kimberley adjusted my cardio programs. It made a huge difference and weight started to come off in large chunks.
My 9 week weigh in, was not quite the 10kg loss I hoped but it only made Kimberley work harder on me. Whilst my two sessions per week were always weights and core, she was keen to ensure my "home" exercises were done properly at the required heart rate.
She was sympathetic when I hurt my Achilles and had to drop the leg press weights, but ramped it up in other areas. After pushing me to enter the 9 week weight loss challenge, I found myself losing even more weight at a greater rate than before. My program changed a number of times and I felt like I was getting stronger all while dropping clothes sizes.
She reviewed my diet again and we worked out some foods I could get away with whenever I was away. I do a lot of travelling for work, and the support she has given while I am away shows that to her it is more than just the 30 minutes I am at the gym twice a week. She has made it personal, which I was I had hoped for when I picked her at the outset.
Fast forward to today, I have lost an incredible 18kgs and continue to lose cm's off my waist. I was a nice feeling having to go shopping for a new suit a week ago, I had dropped two waist sizes.
I am really enjoying Vision Personal Training and have recommended it to many friends. I have also recommended Kimberley as a trainer as she is the hardest working trainer there by far. Thank you Kimberley, I really appreciate the effort you have put in for me on my diet, my exercise and most of all the motivation you give me to turn up and show you what I can do.
Blackburn Success Stories
Our holistic approach to emotions, education, eating and exercise has transformed thousands of people across Australia & New Zealand. Get inspired by the journeys of your latest clients.
Are you our next success story?
Give your goals the greenlight and join us. Book your free consult now.