Before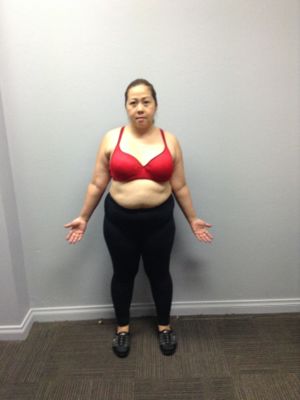 After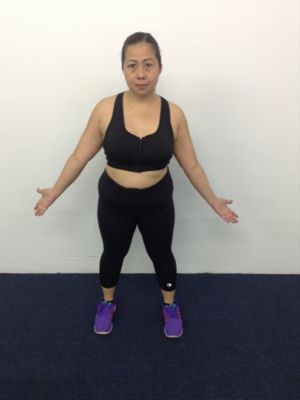 Although I surround myself with positive people, my weight always seemed to bring me down. I needed to change not only my habits but my lifestyle. Therefore, I decided to join Vision Personal Training in January of this year.
My first weigh-in, I was 78.9kg. My goal was to lose at least 1 kilo each week. I trained at least 4 times a week and sometimes trained with my children for more motivation. Clueless the first time, I was very fortunate to have many cheerful trainers come and help me. I started my first month training with Danny and then I trained with Ben. All the trainers were very friendly and helped me with everything in the gym. They taught me how to eat a balanced diet, how to train on the equipment and using my own body weight in training. They both pushed me to go out of my comfort zone and I am very grateful for their encouragement.
The training made me sore but made me push myself even more because I knew that the results would be worth it. I was up for the challenge I set, I wanted and needed to change my lifestyle. I got up early in the morning, everyday, took the train to Kogarah and trained my butt off. My trainings would vary from boxing to weights and much more! My favourite training was boxing because it was a stress reliever and I enjoyed the friendships I made through the class.
In March, I joined the nine week challenge, setting my goal to lose a total of 7 kilograms. I trained hard and focused on my diet. In May, by the end of the challenge, I had lost 7.1 kg. Although, I may not have won the challenge, I was really happy with my results. This made me realise that hard work pays off when you really put your efforts into it.
By the end of May, I lost the total of 14.2 kg and 26 cm and now weigh 64.7kg. Not only did I lose weight, I gained self-confidence and self-esteem. Now I don't feel tired but more energized to take on the day. My co workers now joke and refer to me as their new colleague. This change has helped me physically and mentally where my attitude is more positive and I'm more content with myself. I am now able to join my kids in different activities that I couldn't before because of how fatigue I would feel. As a result of my training, I am able to participate more and spend more time with my kids in the activities they love. This is all thanks to Vision Personal Training.
Kogarah Success Stories
Our holistic approach to emotions, education, eating and exercise has transformed thousands of people across Australia & New Zealand. Get inspired by the journeys of your latest clients.
Are you our next success story?
Give your goals the greenlight and join us. Book your free consult now.