Before
After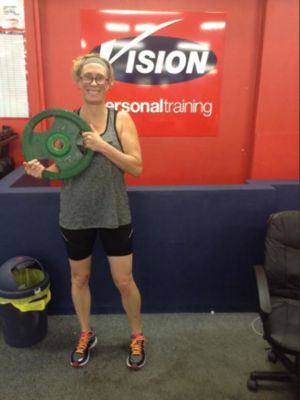 I have to say that 2015 was not my best year. Around October I finally decided to take back control of my life. Part of this decision involved finding and working with a personal trainer to help me achieve some fitness goals. Having made this decision I realised I was clueless about actually finding gyms or trainers.
To be honest, I chose Vision because it was half-way between work and home, and I cycled past it every day. I knew nothing about their appraoch and did not know what to expect at all the first time I climbed the stairs to the studio. However, From the moment I walked in and someone sat down and talked to me about what I wanted I thought "this could work".
From that point on it's been a fabulous experience. The studio seems to be just the right size (not too big, not too small); the other members are friendly and supportive, but there is plenty of opportunity to just be in your own head space. And most importantly the trainers are excellent. They are professional. Some of them are funny! All of them are focussed.
Working with Martin has been a revelation. First, he and I worked together to get the basics sorted out and then we set more ambitious goals. I've lost weight (which was always a goal). But more than this the sessions and discussions we have shared have shifted me from a nutritionally happy go lucky vegetarian to someone who is aware (but not obsessed) about sensible eating and wellbeing. I've always wanted to be a more focussed jogger and I'm halfway through a plan we devised to help me sort this out.
Any life has ups and downs, and any engagement with physical activity has its ups and downs as well. But six months into this adventureI am physically much stronger and have a general feeling of wellness. I'm in this for the long haul.
Stanmore Success Stories
Our holistic approach to emotions, education, eating and exercise has transformed thousands of people across Australia & New Zealand. Get inspired by the journeys of your latest clients.
Are you our next success story?
Give your goals the greenlight and join us. Book your free consult now.