Before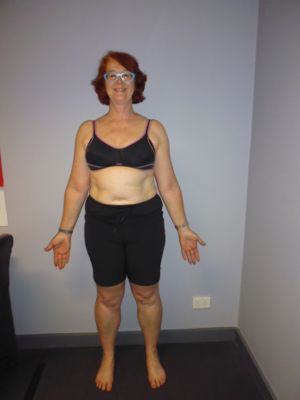 After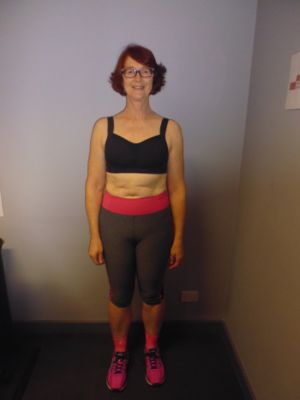 Tell us about your life before joining Vision?
I have been a busy professional woman working in health care, also raising 3 sons now all adults, so life was pretty busy. I was a regular gym goer and a Sunday cyclist, I was attempting to control my weight, unfortunately, unsuccessfully. My fitness was not improving and I tired easily. It was not going so well and with a couple of health scares, osteoarthritis sent me looking for an effective way to lose some weight. I had a friend who had attended Vision Personal Training in Drummoyne, Sydney, who was full of praise for the Studio, he had a tremendous weight loss and greatly increased his fitness. My challenge was the 20 to 30 minute drive to Vision Personal Training in Hawthorn from home, how to fit it in?
I took the big step in October 2015.
What results have you achieved at Vision?
Fantastic results! They have far exceeded what I hoped for. I had resigned myself to being overweight for the future. So to have lost 17 Kg over 12 months has been amazing. I am really enjoying the whole programme; I am setting personal fitness goals now too. I am proud of my new strength and muscular body and I am enjoying my new wardrobe.
What impact has Vision had on your life since achieving your amazing results?
I am so committed to maintaining my health and fitness, and totally impressed by the excellent programme at Vision. I feel such knowledge and coaching should be widely available to many people to address the obesity in our community.
Personally it's been great to empty out my wardrobe, the wardrobe clean out is now influencing me to clean out other household clutter so I can move forward in a "lighter "way.
I am also happy when I am photographed, my face looks better, I look and feel younger by years.
What are some of the defining moments during your journey?
Doing the 100km ride as part of Around the Bay in a day in October was really great, especially into strong headwinds for 50K. That really highlighted what I had achieved. I also did a beep test and improved on it! In other ways I am cycling better: tackling the hills and cruising more easily where before I would puff a lot. I am planning on a lighter better bike, but even now my husband says my power to weight ratio is much better!!!
In the beginning Ashild my trainer was great setting my food plans and giving lots of hints to get the process underway, now Courtney has taken over as my weight loss rate has slowed, as expected, but my strength and muscles are really improving with her supervision and I am setting fitness goals which is a first for me. I was never a sporty person.
I have also come to realise that my work life balance has not been good for some years and I have paid for that with my health. I now realise that in order to remain fit and active I need to work less and I am pruning my work portfolio and my "honorary" work.
What advice would you give someone who is currently thinking about taking a positive step towards changing their health and fitness?
Grab at a good opportunity, don't delay. I really wish I had created the time a few years ago. Find a good programme with Vision. Coaching really makes a difference!
Hawthorn Success Stories
Our holistic approach to emotions, education, eating and exercise has transformed thousands of people across Australia & New Zealand. Get inspired by the journeys of your latest clients.
Are you our next success story?
Give your goals the greenlight and join us. Book your free consult now.